12 Mainstream Movies Where The Actors Really Did it
Advertisement
Usually, graphic love acts depicted in movies can be too transgressive even though they are often simulated with tricks; pillows between themselves, prosthetics and body stockings. Actors also do fake push-ups to get their muscles swelling out with an improvised movement.
However, not all steamy scenes are stimulated. In some scenes, actors actually perform the real deeds that seems like a bad adult content videos. In fact, the difference between movies with such visible details and pornography is that the former has something other than the action; a story while the latter is all about the action! Here are some real-life scene Movies Where The Actors Really Did it on the movies.
The Brown Bunny (2003)
This movie was filmed on handheld 16 mm cameras in various locations throughout the United States, including New Hampshire, Massachusetts, Ohio, Missouri, Utah, Nevada, and California. The movie is about a professional motorcycle racer Bud Clay who headed from New Hampshire to California to race again. Along the way he meets various needy women who provided him with the cure to his own loneliness, but only a certain woman from his past will truly satisfy him. The movie featured a particular scene where Chloë Sevigny performed oral on Vincent Gallo. Probably not for the money, but because they were dating in real-life.
Love  (2015)
This film is a French erotic romantic drama film and it was one of the hottest movies going on in 2015. It was written and directed by Gaspar Noé. The movie explains everything, showing clearly the actors "personal bits" that you don't have to imagine what the rest is like. And it does that using 3D. The film centers around the lives of a cinema school student named Murphy, and his former girlfriend Electra. It received mixed reviews on tv movie database with 42% on Rotten Tomatoes, an average rating of 5/10, sampled from 78 reviews.
All About Anna (2005)
This movie is sort of a boundaryless one with a lot of erotic scenes. It drew some strong reactions after it was released due to the unsimulated s3x and masturbation scenes. But director Jessica Nilsson said that without those representations, the theatrical work wouldn't be winsome. The official genre of the movie was "a romantic comedy for women" leading us to wonder whether the s3x scenes were by chance.
Romance X (1999)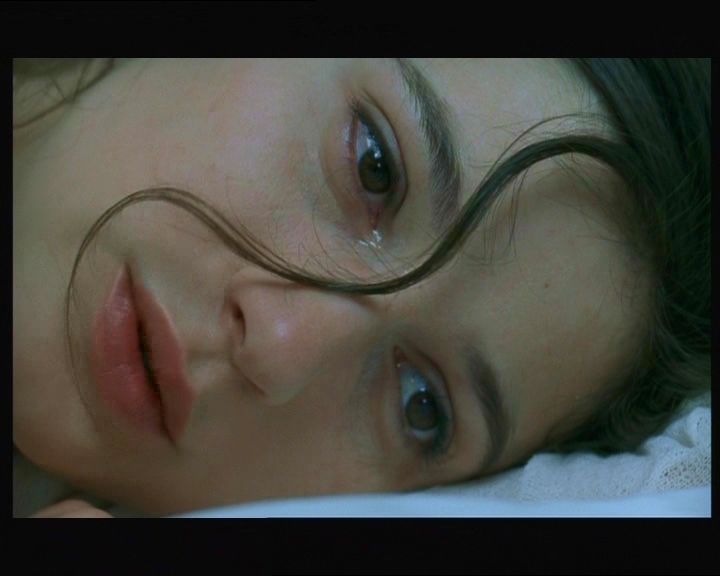 Romance X is a movie that offers several scenes of love-making. Featuring Caroline Ducey, the movie was tripple X rated by TV movie database in Canada, it's about Marie, a young woman living with her boyfriend Paul. She is frustrated by her boyfriend's stance not to get intimate with her, as a result, she embarked on a journey that proves to be both fulfilling and empowering, her frustration drove her to a series of relationships, until she found herself engaging in a series of completely unsimulated interactions with an older man.
Lie With Me (2005)
Lie With Me is a Canadian film with expressive intimate details. The drama is inspired by Tamara Faith Berger's novel, and it's a story of a carefree fanatic who didn't mind where or when she was doing it– as long as she was doing it. She met and started a real affair with a go-ahead young man despite being not so happy with the emotional side of their relationship. The film starred Lauren Lee Smith and Eric Balfour and it was among the most romantic movie theatre listings.
Antichrist (2009)
Willem Dafoe and Charlotte Gainsbourg featured as a married couple in what was one of the local movies playing in 2009. So they probably chose to do 'it' like real married couple despite using body doubles. The movie contains violent scenes, sadomasochism, graphic self-mutilation scenes. The movie featured a grieving couple that retreated to their cabin in the woods, hoping to repair their broken hearts and troubled marriage. But nature took its course and things moved from bad to worse.
Shortbus (2006)
An American erotic comedy-drama, "Shortbus" is a movie that revolves around New Yorkers who often visit Brooklyn salon. Shortbus received from mixed to positive reviews, currently holding a 66% "fresh' rating on the TV movie database – Rotten Tomatoes based on 121 reviews with an average rating of 6.4 out of 10. Shortbus includes a variety of explicit scenes containing non-simulated interactions
Intimacy (2001)
As the name implies, the film tells a story of a failed London musician who goes to a woman for a series of aggressive intimacy every Wednesday.
He does that to ease off the stress of life. At some point, the head bartender became curious and wanted to know more about this woman. Well, that part does not concern us. We are concerned about the weekly scenes.
Frankly, the plenty of wordless scenes between Kerry Fox and Mark Rylance are all real. In an interview, Kerry made it clear that she has no regrets for having done the …. on screen.
Baise-Moi (2000)
This film received intense media coverage because of its graphic mix of violence and explicit scenes. Consequently, it is sometimes considered an example of the "New French Extremity" In French, Baiser means to have s3x, but it can also mean "a kiss" when used as a noun. So the direct meaning of the movie apparently is "kiss me", but while watching the movie one might name it "Rape me". The movie is brimming with punchy actual intimate scenes. It tells a story of two young women that received bad treatment from society. The duo then resorted to a destructive tour of violence, breaking the laws and murdering men.
Ken Park (2002)
Ken Park is a provocative arousing movie that arguably represents the lives of many young people in California. One of the characters betrays his girlfriend and goes as far as hooking up with her mum regularly. The scenes in the movie aren't fake. Ken Park is about several Californian skateboarders' lives and relationships with and without their parents. The film revolves around the abusive and/or dysfunctional home lives of several teenagers, set in the city of Visalia, California.
9 Songs (2004)
The film tells  the love story of Lisa, an American college student, and Matt, a British glaciologist. The movie portrays real scenes of concert performances by music groups like Black Rebel Motorcycle Club, The Dandy Warhols, and Franz Ferdinand. Similarly, it has actual s3x scenes between Lisa and Matt. According to The Guardian, 9 Songs is the most s3xually explicit mainstream film to date, largely because it includes several scenes of completely unsimulated interactions between the two lead actors. 9 Songs currently holds a 24% on Rotten Tomatoes based on 94 reviews with an average rating of 4.4/10.
Advertisement