To sate your hunger for good cooked egg, you should try to alter the cooking method. Okay, it might surprise you that altering your egg cooking method will help you get the best result from an ordinary egg. Better still, you will get an egg which is as appetizing as it sounds. If you have been eating omelets and scrambled eggs, fried eggs, deviled eggs, or even hard-boiled eggs chopped up in potato salad without making any slight change to the method of cooking it, you have been missing something awesome.
Read Also: See The Result Of Popping Milk And Chocolate In A Microwave
Yea – there's good news for adventurous cook who is utterly tired of doing the same thing the same way all the time. Don't leave it to chance,  explore this great opportunity of changing the taste of that protein-filled, oval miracle. Try any one of these awesome methods of cooking egg to spice up your breakfast staple. Even though our individual menus are as unique as our fingerprints, cooking our eggs in a slightly different way will make all the change you never thought in your breakfast menu.
No one starts out life with an aversion to eggs…so the invention of new ways of making eggs is definitely inexhaustible. Therefore we bring you some of the ways you can make eggs outside the usual ways you used to.
Here Are 17 New Ways Of Making Eggs You Can Try Out.
1. Turkish Poached with Yogurt and Spicy Sage Butter: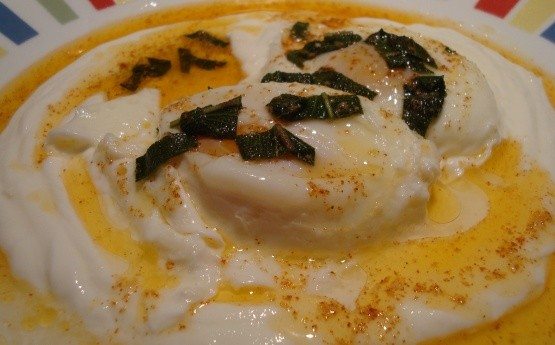 This is the epitome of an easy, lightning-fast way of cooking eggs. The dish flavor is remarkably complex that you won't want to eat it with a big hunk of bread. The yogurt tastes great with the smoked paprika and sage leaves, and when the egg yolk breaks and swirls with all flavors, it's the perfect balance. It is a dish to be served while the eggs are still piping hot.
Source: Orangette.blogspot.com
2. Pan Fried Deviled Eggs:
Who would ever imagine making pan-fried deviled eggs filled with a delicious thyme and butter mixture, covered with creamy Dijon mustard sauce? What a sensual change from hard-cooked eggs. It is a tasty warm and crispy turn on deviled eggs. It is just the kind that falls under the forehead-slapping duh" category where you're like 'duh, how didn't I not think of this before! If you are thinking of hosting a small holiday party or making your breakfast more awesome, these fried deviled eggs would be a perfect, wonderful alternative to the traditional dish. It is not just any fried deviled egg, so you should try it out when making breakfast for a large crowd or on a Sunday breakfast or brunch.
Source: Ironstef
3. Egg Bundles:
This method of cooking an egg comes out just as appetizing as the name sounds. Try eggs wrapped in bacon, I bet you'll make your family eat their tongues. They will confess how delicious that is. If you are considering trying egg bundles, here's how to do it. Lightly grease six muffin cups with butter. In a large skillet, cook the bacon over medium heat until cooked but not crisp. Drain on paper towels. Cut six bacon strips in half width-wise; line the bottom of each muffin cup with two bacon pieces. Line the sides of each muffin cup with one or two bacon strips. Break an egg into each cup. Bake, uncovered, at 325°F for 12-18 minutes or until whites are completely set and the yolks will begin to thicken although not strong. Transfer to a serving plate and surround with parsley.
Read Also: See The Amazing Result Of Making a hole in a potato Before Cooking it
4. Baked Strata:
Baked strata is easy to make, and awesome to feed on. It is like bread pudding, but with eggs.  To make it, soak chunks of bread in milk-based sauce, sprinkle them with cheese and bake them in a casserole dish with eggs, milk and mustard. It's like putting your toast right into your scramble. I encourage you to try this method, it looks great and tastes even better. 
Source: Housebeautiful
5. Crispy Poached Egg:
This type of egg is usually seen on top of a lot of French salads. It is simply a poached egg served atop frissee with bacon lardons, croutons, and a Dijon vinaigrette. You can make it by soft-boiling eggs, rolling them in a breadcrumb batter, and then fry them in oil. The crisp fried batter texture is perfect against the soft egg on the inside. But, don't be scared of trying it using your own preferences.
Source: FormerChef.com
Read Also: This may Look Like A Colourful Mess, But What Happens To Is Pretty Amazing..Watch and See!
6. Eggs Over Medium:
Sometimes you order fried eggs that are turned over when nearly cooked and fried lightly on the other side, so that the yolk remains slightly liquid in the name of "over easy eggs" and you wish the yoke was just a bit more cooked right? Well, it can be. Wondering how? Crack the eggs into a buttered skillet and don't flip them. Just put a lid on the pan so the yoke can cook more.
Source: LiveStrong.com
7. Goldenrod Egg: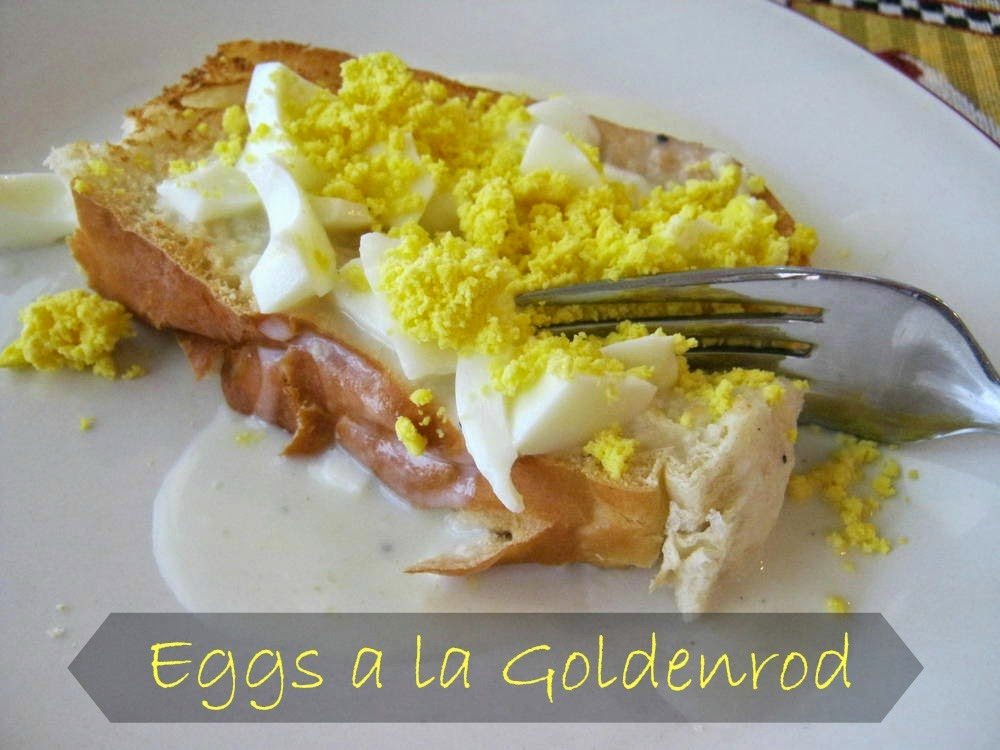 This is just how the French eat their eggs on Easter morning, but you can have them more often than just Easter day. To prepare this dish, dissolve butter in a saucepan with flour and milk over medium heat string continuously.  This will produce a creamy sauce you make in a pan with flour, butter and milk. You pre-make hard-boiled eggs, set aside the cooked egg white from the yolk, chop up the white, and whisk it into the cooking sauce. Pour the sauce over toast, and then crumble the yoke and put it on top of the whole mixture.
Source: AllRecipes.com
See Also: What Was Found Inside This Banana Might Make You To Swaer Off Fruits
8. Microwaved Quiche:
If you really don't like cooking or think you don't have much time to waste on cooking eggs, then this will be the best choice to try out. You can make a quiche which is one of the fanciest dishes of all simply by adding scrambled raw eggs to your favorite add-ons like ham and green onions in a coffee cup, and microwaving the whole thing for about a minute.
Source: StlToday.com
Read Also: The Insane Outcome You See When You Squirt A Ballon With An Orange Peel
9. The Rolled Omelet:
To make this delicious dish, all you need to do is to stir up your raw eggs and pour them about two centimeters thick into a medium buttered pan. Allow the eggs to cook fully on one side, flip the entire sheet and let it cook on the other side, then cover it with whatever your preferences are and then roll it up.
10. Egg Souffle:
Since chocolate soufflés came to existence, we have overlooked the fact that eggs are the important features on which soufflés depend on for their great taste. For a simple yet fancy dish, you can make an egg soufflé with four egg yolks and three egg whites, a little bit of butter, milk and some flour. It's a light and pale food that will give you all the treat you can think of.
Source: Leavenodishunturned.wordpress.com
11. Aebleskivers:
This is another awesome way of cooking your egg. Aebleskivers are a Danish dessert pastry, that often come out incredibly moist since they have a lot of eggs. Yea, there is more egg than pastry in cooking Aebleskivers. To make this, in a clean glass or metal bowl, beat the egg whites with an electric mixer until they can hold a stiff peak, then keep separately. Whisk the flour, baking powder, salt, baking soda, sugar, egg yolks, melted butter and buttermilk one at a time until the mixture becomes smooth. Afterwards, fold in the egg whites and add about 1 tablespoon of vegetable oil to the bottom of each aebleskiver pan cup and heat until hot. Pour in about 2 tablespoons of the batter into each cup. Once they get bubbly around the edge, turn them quickly using a knitting needle or fuck.
In cooking it, you can add your most preferred fruit, like apple slices, into the mixture when it bakes for a sweeter end product.
Source: AllRecipes.com
12. Puffy Omelet:
You may not have forgotten these exist but you may have given up on trying to make them. You probably wonder at restaurants, "How do they get these omelets so fluffy?" The trick is finishing them in the oven. This recipe will make sure you get every step right.
Source: BettyCrocker.com
13. Spicy and Sour Steamed:
Can you imagine eating eggs with seafood? Well, you will want to after this. Spicey and sour steamed recipe does something similar to soft boiling eggs, but as soon as the yolks are broken, they really soak up the sweet, sour and spicy flavors of the chili, lime juice and garlic. The eggs are served with giant prawns in tiny cups and they're quite tasty.
Source: Moemoe-moemoekitchen.blogspot.com
14. Potato Gnocchi with Egg:
You could also adapt to a little Italian breakfast by trying out Gnocchi. Of course, Gnocchi is delicious and wonderful. You might not have known that eggs are tasty over chewy, doughy Gnocchi, and since Gnocchis are made out of potato—like hash browns—topping them with eggs is simply great. To make this, just drop full, raw cracked eggs into your nearly finished Gnocchi, cover the whole thing with a lid, and let the eggs finish cooking with your gnocchi, coming out with soft yolks that melt all over the place.
Source: TheEnglishKitchen.blogspot.com
15. Steamed Century Egg Over Pork:
Century eggs are made when eggs (duck, chicken or quail) are preserved for hundreds and oftentimes thousands of years in a mixture of clay, salt, quicklime and rice hulls. The eggs become nearly black, with a kind of pickled, sour and salty flavor. In this dish, three various types of eggs including century, regular, and salted are blended together, poured over ground pork to create a gelatin-like coating over the meat that is salty and sour in some places, and mild in others. Trust me, it will come out so so tasty!
Source: Soyandpepper.com
16. Beet Pickled Eggs:
Incase you are looking for a healthy colorful egg on your brunch or breakfast table, Beet pickled eggs will fill the vacuum. Trust me, you are going to fall in love with these bright pink eggs! This recipe is prepared by making a beet pickling sauce that you pour over hard-boiled eggs. Allow in a jar for three days, and afterwards, you have something similar to these gorgeous bright pink treats that are delicious.
Source: Southernoise-gluttony.blogspot.com
17. Shrimp and Wasabi Deviled Eggs:
If you've had enough of ordinary deviled eggs, try this: chop up shrimp and whisk in a mix with wasabi, green onions and mayonnaise for deviled eggs with a kick.
Source: Kalynskitchen.com