Some outstanding celebrities have made clean breasts of their sexual addictions while some others have been caught in giant sex scandals that suggest they may be nymphomaniacs. These seventeen celebs have either battled sex addiction or have been rumoured to have a sex-related problem that gives the impression they probably have abnormally excessive and uncontrollable sexual desire.
Creme De La Creme Who Are Also Nymphomaniacs
John F. Kennedy
John F. Kennedy has never been called a straight-up sex addict. Probably because men in a high position usually have innumerable mistresses during their terms. Nonetheless, he was indeed notorious for all of his physical engagements. He loved women and was always having them. He cheated on his wife a lot and anytime he wasn't with her, he was just cheating. Kennedy himself did address his own issues. However; it's said that he once told British now ex-Prime Minister Harold Macmillan, "I wonder how it is for you, Harold? If I don't have a woman for three days, I get terrible headaches.
Angelina Jolie
A friend from Angie's past who's supposedly her ex-lesbian lover – super model Jenny Shimizu once dished a dirt on some of her lesbian relationships with famous celebrities. She said that during their relationship, the Oscar award winner seemingly had a very healthy libido – slightly high libido as a point of fact. Jolie's libido seems to be among the similarities she shared with her ex-husband Billy Bob Thornton.  The gender-bending supermodel also said Jolie even offered to perform all types of kinky sexual favours. In addition, she kept a set of knives in the bedroom for foreplay. Hmmm, I wonder if she planned to do some sliting during the act.
Read Also: 30 Terrifying Pictures Taken Moments Before Tragedy
Billy Bob Thornton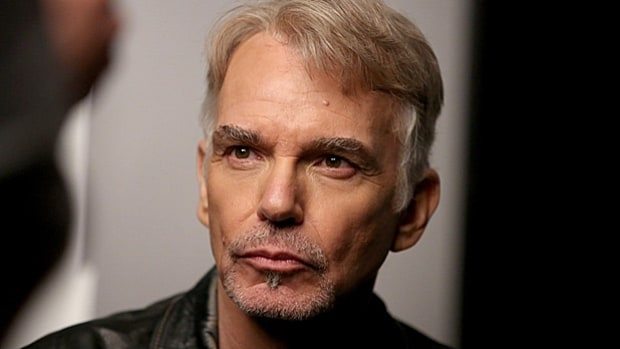 In 2002, when Billy Bob Thornton was still married to Angelina Jolie, he confessed that he was addicted to sex. Thus, in an effort to save their relationship, he went to therapy to seek help. Ironically, this only led to him screwing his therapist. Not really the right method of healing for his specific problem, to say the least.
Bill Murray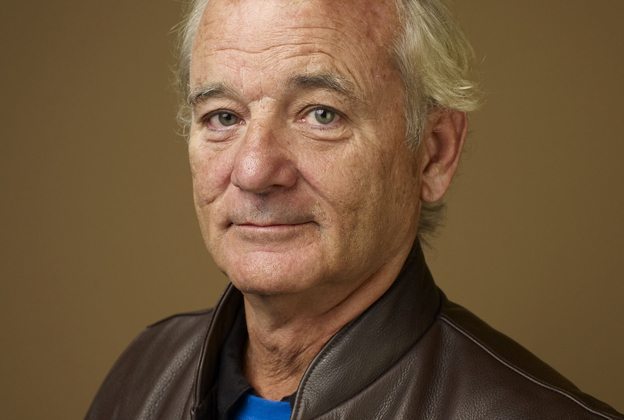 Actor/comedian Bill Murray has been married twice and divorced twice and in all the divorces, Murray was branded a sex and alcohol addict. His ex-wife Margaret Kelly left him due to his affair with Jennifer Butler after more than 15 years of marriage. Afterwards, Butler and Murray got together and we thought that will end the drama under Murray's pants. But after a marriage of more than 10 years, they separated and Butler accused him of "adultery; addiction to marijuana; alcohol and sex. It didn't end there, Butler also called him a serial cheater. Murray who is known to be a very private person has not commented on the accusations. He rarely gives interviews and never talks on personal subjects but it was obvious he cheated on Kelly with Butler.
Read Also: Here's What Brad Pitt Did To Son Maddox That Made Angelina Jolie File For Divorce
Tiger Woods
One of the highest paid golfers, Tiger Woods has gone through several sex scandals in his career with the biggest altering the course of his career. The record-breaking golfer was married to stunning Elin Nordegren. But had countless relationships with different women before and after their marriage. During one of the sex scandals that really shook Hollywood, many women – about 14 shared their experience with Woods. Their stories had a common thread that ran through them though they also had slight dissimilarities. The common thing they shared is that Tiger seemingly found it had to sleep at night due to addiction.Thus, he turned to sex to keep himself busy – pushing him to cheat on his partners. He later went to rehab alleging that he was warring sex addiction. However, we are not sure that saved his reputation since till date stories of infidelity still, hovers around the talented golf player.
Thus, he turned to sex to keep himself busy – pushing him to cheat on his partners. He later went to rehab alleging that he was warring sex addiction. However, we are not sure that saved his reputation since till date stories of infidelity still, hover around the talented golf player.
Jesse James 
The 47-year-old TV personality was divorced by Sandra Bullock, 52, in April 2010 for cheating on her multiple times. The disturbing part is that he often did it unprotected based on reports. This was after a good number of women claimed to have had affairs with him while he was still married to the Oscar-winning actress. The highly publicised split really blackened Jesse's reputation, but he has moved on for good.
Anthony Weiner
Former NY office-holder, Anthony Weiner also had this thing for women and even went to rehab for sex addiction healing. In fact, Weiner's desire for sex led him to cheat on his wife even while she was pregnant. This was discovered when he accidentally shared a sexually explicit photograph of himself on Twitter. Apparently, the photograph was meant to be sent to one of his mistresses in private.
Though he and the supposed mistress dismissed any wrongdoings, Weiner later confessed that he had been cheating on his wife in an unexpected afternoon press conference. Chat transcripts of his texts and other countless women talking to tabloids made him resign as U.S. Representative of New York City's 9th congressional district (covering parts of Brooklyn and Queens). After the incident, he sought for therapy for his problems.
Charlie Sheen Actor
The former Hollywood Hellraiser who shot to fame in the '80s in the likes of Red Dawn (1984) and Wall Street (1987), went public with his HIV-positive status in November 2015. The alleged notorious womaniser has had a recurrent struggle with drug and alcohol. After reports on his HIV status, there were countless speculations that Charlie has laid hundreds of women (strippers, hookers, one night stands and transsexual person) in his lifetime. Meanwhile, he doesn't look like he wants to stop. Though he recently said he is now focusing more on his family than getting laid.
Read Also: 8 Celebrity Homes You Can Pick Up Right Now
David Duchovny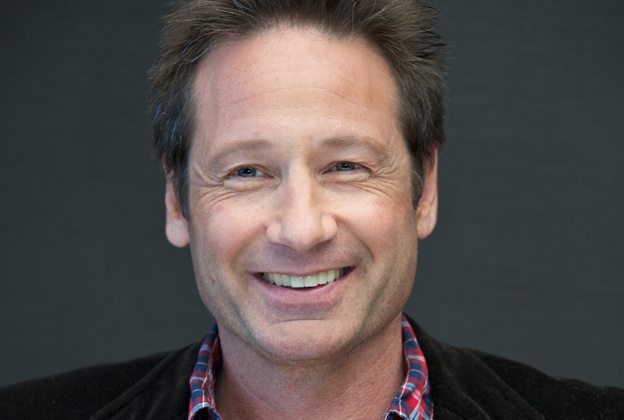 Duchovny was also a rehab candidate for being addicted to sex. Despite being married to Tea Leoni since 1997 and fathering two children, it didn't stop rumours about his promiscuity. He denied the claims, saying he's not a sex addict. But in 2008, he admitted to having an addiction to sex and went to rehab to get help. Rumours, although not confirmed, abound about the number of affairs he's had in the past. He and his wife, Tea Leoni, ended up splitting as a result of his addiction.
Michael Douglas
From Oscars to booze addiction, Michael Douglas's adventures with women and alcohol became the talk of Hollywood after he divorced his first wife. He resorted to rehab in the 90s to make changes in his life but claimed it was because of an alcohol problem. It was, however, widely speculated that he went to rehab to curb sex addiction.
The actor with over forty years of experience in theatre, film, and television once confessed that years of performing oral sex on women may have triggered his throat cancer. Though it seems Michael's womanising days are now over as he spends as much time with Catherine – the love of his life – and his children as he can, we are not sure he's completely done with having affairs other women. And going by his marriage to Catherine Zeta Jones who has been with him for 13 years now, he's got a thing for younger women too.
Nicole Narain
Model Nicole Narain proves that men are not the only people meant to fight sex addiction. The actress once admitted that she has an excessive desire for sex that she became addicted to masturbation. She boldly packed up to rehab to handle her increasing urge for sex. Far from some of the other people on this list, she seems to be doing well for herself today.
Eric Benet
Eric Benet R&B singer and songwriter falls under this list too. Halle Berry's ex-husband, Eric is rumoured to be addicted to sex. As a point of fact, his marriage to Halle Berry presumably terminated due to his potential to cheat with other women. If you know what i mean. The fact that he hitched up to one of Prince's ex-wives tells you everything you need to know about him.
Read Also: 20 Times The Wind Served Instant Karma
Russell Brand
Best known for his role in 2008's Forgetting Sarah Marshall, Brand is another womaniser on our list. Rumoured to have been laid by countless women, Brand revealed in his memoir, My Booky Wook, that he was suffering from an addiction to heroin and sex. For that reason, he joined a sexual addiction treatment centre in Philadelphia, completed treatment and is now engaged to singer Katy Perry.
Read Also: 12 Mainstream Movies Where The Actors Really Did it
Kanye West

Married to a reality TV queen, the often arrogant rapper/singer/producer, West is another Nymphomaniac on the list. In 2006, he told Rolling Stone that he takes pleasure in pornography but later said the reporter inflated and represented his statements badly. On the contrary, in 2009, West sent shockwaves through the world when he told Details magazine he had a sex addiction. "People ask me a lot about my drive," he says. "I think it comes from, like, having a sexual addiction at a really young age." But in all, West has not publicly said his behaviour is a continuing problem for him or that he has received treatment for sex addiction.
Kari Ann Peniche
A former teen beauty queen who had her title dissolved when she stripped for Playboy is another celebrity who couldn't hold back at any chance to have sex. Kari's sex addiction made her get engaged with the younger brother of Backstreet Boys member Nick Carter despite once being her ex. She got engaged with Aaron, for six days despite knowing him for five days. She admitted to having affairs with hundreds of lovers but couldn't have emotional relationships with them. Well, we hope she has gone to rehab just like some on the list.
Eliot Spitzer
The ex-New York Governor  broke headlines after being linked to a big  prostitution scandal back in 2008. This revealed that for several years, he'd been having sex with very expensive call girls. Then, Spitz was alleged to have spent more than $80,000 on prostitutes over the time he was hiring them to fully feed his addiction. At the time he was caught, he had paid call girl Ashley Dupré about $4,300 for one night. He later relieved himself of his duty after threats of impeachment and got admitted into a rehab centre to heal his unhealthy love for sex.
Amber Smith
Amber confessed that she used to be a sex addict. At her lowest, she used sex to get drugs but admits her real addiction didn't actually appear until she got her drug and alcohol use in check. Yet, that's not the worst part. Apparently, Smith's obsession with males only applies to one specific type, and that's men who resemble her father. Daddy issues!