Dresses are made to be worn for two purposes: First, to cover up and keep warm, secondly to look good and classy. Most celebrities dress up to social functions with just the second purpose in mind. They choose to wear see-through dresses that barely cover them up as a way to make fashion statements, as a result, such nude fashion is fast becoming the trending fashion. You will definitely see a couple of such fashion on every red carpet as one celebrity tries to out-nude the other in expensive sheer dresses.
Some of these clothes are as good as mosquito nets and cover almost nothing, so why wear clothes at all, One might ask? Whatever the case, these ladies have excellent bodies that they can't help but put on display for all eyes to see. They portray both styles of supremely sultry dressing suggesting sexy, hot and daring bodies. Well, if their fans love this fashion trend, there is nothing else to say, after all, celebrities are all about media hype, fans and paparazzi's. This article is all about nearly nude pictures that will keep your eyes busy for a couple of minutes. Enjoy!
20. Victoria Hervey
Lady Victoria Hervey is a British socialite who does not have much reservation appearing in public with minimal level of cover for which she has often been criticised for. The appearance that has generated the most buzz was when she appeared on the Red Carpet during the Golden Globe event putting on next to nothing. Lady Victoria Hervey has never been a wallflower when it comes to red carpet events
19. Beyonce
Who else if not Queen Bey, Yes! Only Beyonce could steal the style spotlight from all the Met Gala attendees and walk the red carpet right before it shuts down. She took things to a whole new level when she showed up to the Met Gala in NYC well after the reporters and photographers had begun leaving the red carpet.
Queen B turned heads in this fishnet embroidery style dress which did not fail to highlight her ample décolletage. She succeeded in pulling off the ultimate sneak attack at the Met Gala that left us in shock even till today
18. Rihanna
We have seen Rihanna, the pop star diva wear so many styles of dresses, but nothing to be compared to her sheer Swarovski crystal encrusted dress that broke the internet, a dress she wore to the C.F.D.A. awards. The dress has 230,000 crystals embedded on it but it wasn't enough to prevent her from baring it all in public.
17. Irina Shayk
Talk about the "dress but no dress", this Russian model is no stranger to wearing skimpy clothes but she decided to take it a step further to a whole new level by showing off every inch of her toned and tanned body in this black Atelier Versace half gown and half studded, see-through cat suit during the Vanity Fair Oscar party.
16. Kim Kardashian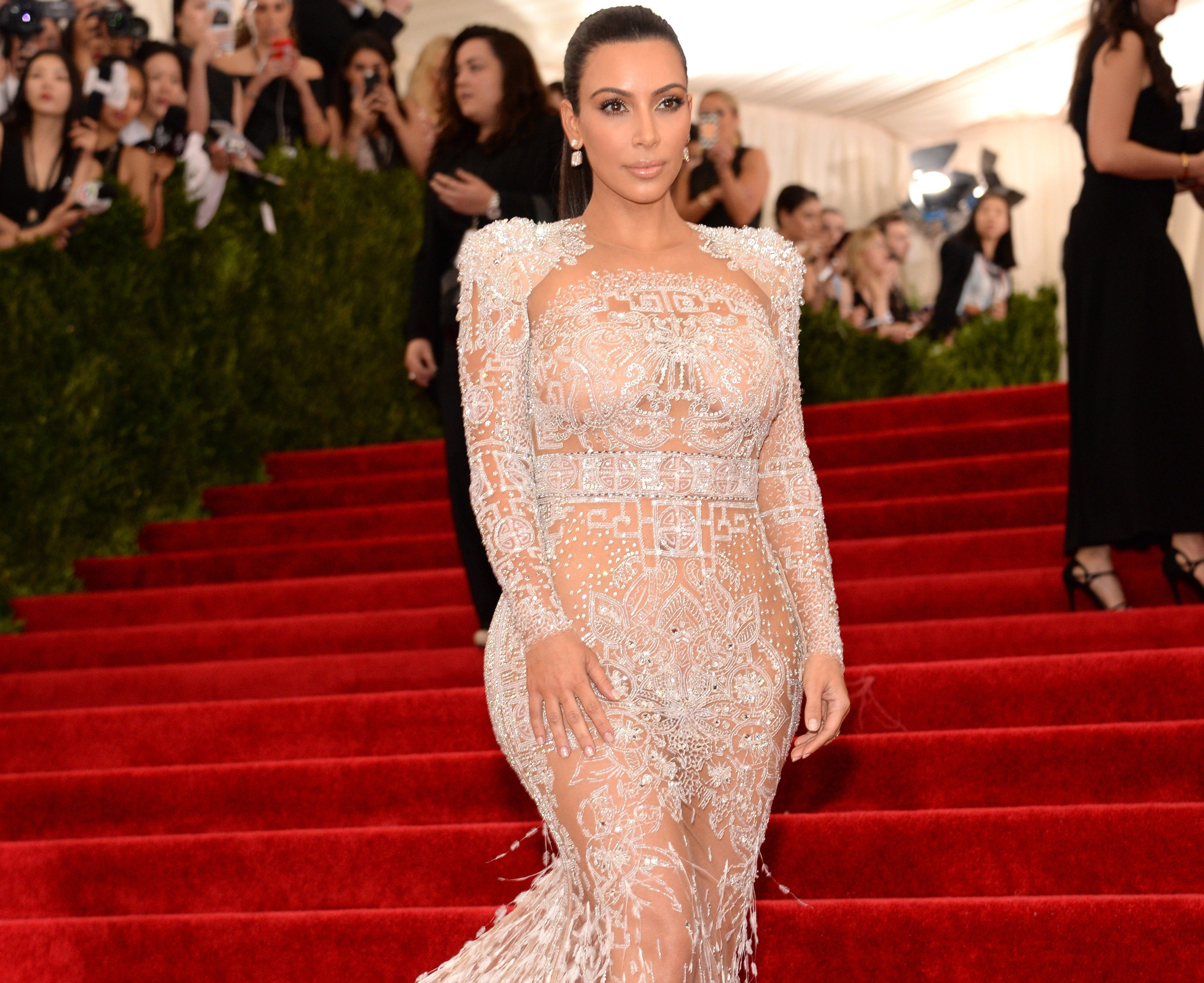 Kim Kardashian needs no introduction at all; being the first woman to cause an internet frenzy by posing unclad for Paper Magazine, she has often mentioned that such pictures makes her feel good about herself and drives her self confidence through the roof. When she appeared on the red carpet in an all exposing dress designed by Peter Dundas for Roberto Cavalli during Met Gala fashion show.
15. Jessica Chastain
Jessica Chastain, a talented American actress and movie producer is always spot-on with her dress sense. Her height and slim body nicely fits in any long dress which she enjoys wearing especially on the red carpet. She has earned a spot on this list with her transparent embroidered dress.
14. Bleona Qereti
Albanian singer Bleona Qereti made headlines around the world when she rocked up to this week's American Music Awards wearing a mesh dress, which left little to the imagination. Bleona Qereti is a United States based Albanian singer and actress often referred to as 'The Madonna of Albania,'. She has made a name for herself as a renowned international pop singer. While she is popular for her musical works, her fashion stunts also contributes to her fame, one of the most memorable being her 2014 appearance in a fishnet dress.
13. Jennifer lopez
Jennifer Lopez has always been eager to reveal as much of this endowment as possible in her music videos and performances however, her dress during the MET Gala 2015 left nothing to the imagination. J Lo stunned the world at the 2015 Met Gala in a custom nude one-shoulder Atelier Versace illusion gown with her sexy curves, she simply looked hot, hot, hot and sexy.
12. Miley Cyrus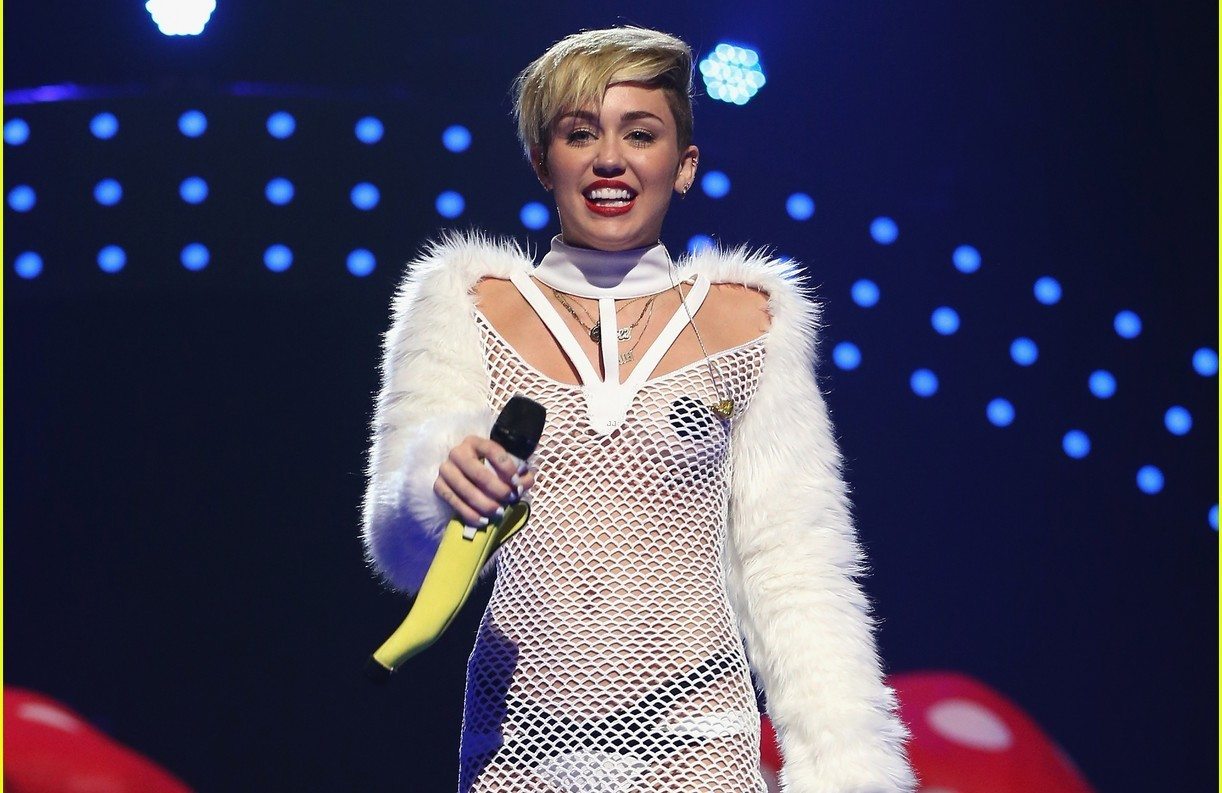 If there is someone who never fails to hit the news headlines every now and then, it is Miley Cyrus. Miley is always on the news for all the wrong reasons. The young talented singer has worn many things in the name of fashion but the ones that cover almost nothing deserve a mention on this list.
11. Toni Braxton
You cannot talk about the modern RnB song revolution without mentioning Tony Braxton. She has been a force to reckon with in the music industry since the 90s; being recognised as the "Queen of RnB" and a distinct voice of our time. She has never been ashamed to put on any dress that covers little or less and this is definitely one of those.