The big annual player selection meeting of the National Football League (NFL), has come and gone, and the draft has been released. The basic design of the draft gives each team a position in reverse order relative to its record in the previous year, which means that the last place team is positioned first. From this position, the team can either select a player or trade their position to another team for other draft positions, a player or players, or any combination thereof. However, the NFL Draft is usually full of surprises and the NFL fans are saying that some of the players picked are understood based on value or need, but some others make absolutely no sense. Here are 20 picks that absolutely makes no sense.
Top 15 Hottest World Wrestling Entertainment (WWE) Divas
1. St. Louis Rams: Jamon Brown (OT)
St. Louis obviously deserves number one spot on this list. He needs help on the offensive line and those needs were addressed in the draft. Four offensive linemen were chosen by the team, but three of those are projected right tackles. While Rob Havenstein and Andrew Donnal are both college right tackles, Brown played LT at Louisville. With Greg Robinson and Rodger Saffold at left tackle and left guard respectively, it will be difficult for Brown to crack the starting lineup.
2. Carolina Panthers: Shaq Thompson (OLB)
While Thompson certainly has the talent to be a great linebacker for the Panthers, the team's decision to draft him in the first round was off the mark. The Panthers desperately needed help at offensive tackle, yet chose to add a player to one of their strongest positional groups. Thompson will be a great addition for the Carolina defense, but ignoring a glaring weakness isn't wise in the NFL.
3. New England Patriots: Jordan Richards (SS)
The Patriots have always been fond of drafting little-known safeties in the early rounds, but their selection of Richards in the second round was a rather significant head-scratcher. Many draft experts didn't see Richards as more than a late-round flier, while some assumed he wouldn't even be drafted. It's hard not to trust Bill Belichick's judge of talent, but the selection of the Stanford safety so early certainly made no significant sense.
4. Denver Broncos: Shane Ray (OLB)
Round 1 is not when teams should be taking big risks. That's exactly what the Denver Broncos did when the team selected Shane Ray. Ray's red flags off the field led to his fall on draft day, but the Broncos felt he was worth the gamble – how does he fit as a member of that defense? Ray is much better suited to play DE, but will shift to OLB in Denver's 3-4. He'll struggle in coverage and may be a major bust.
5. Buffalo Bills: Ronald Darby (CB)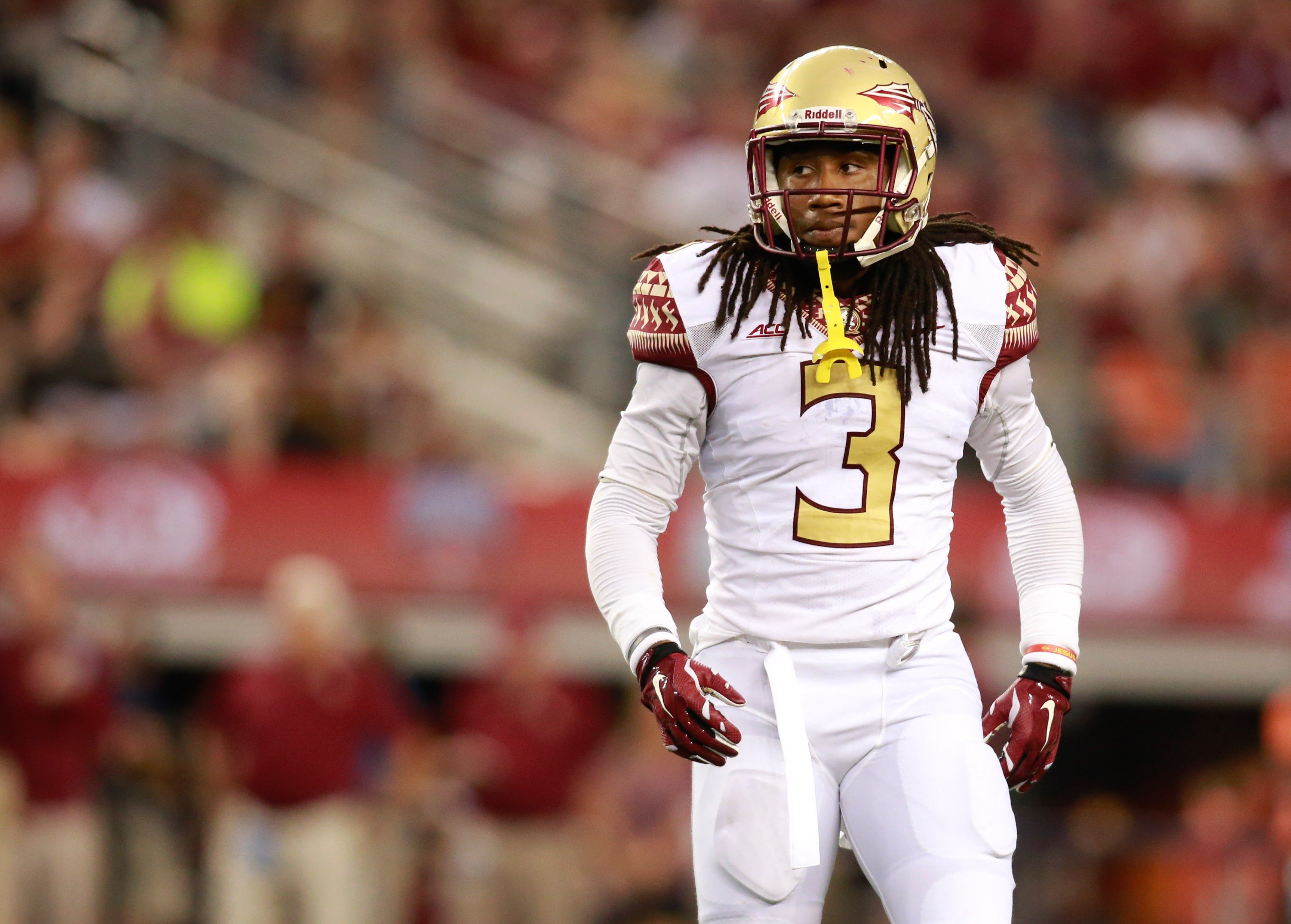 Without a first-round pick this year, Ronald Darby was Rex Ryan's first pick as head coach of the team. It wasn't a surprise that the Bills went defense in Round 2, but there were better options than Darby available. Ryan has a history of missing on defensive backs in the draft, and Darby will likely be his next mistake. He has above-average speed, but tends to get lost in coverage. That alone will test the patience of his new head coach.
10 Athletes Who Proved That Your Obsession Is The Best Career For You
6. Seattle Seahawks: Frank Clark (DE)
The other team entering the draft without a first-round pick was the Seattle Seahawks. When the team finally made a selection, they chose a player some teams didn't even have on the board. While at Michigan, Clark pleaded guilty to a home invasion charge in 2012 and was arrested on domestic violence charges in 2014. The latter charge resulted in Clark being dismissed from the Michigan football team.
7. Tampa Bay Buccaneers: Donovan Smith (OT)
Penn State QB Christian Hackenberg, a potential first-round pick in the 2016 draft, struggled last year in part because his offensive line played poorly. Donovan Smith was barely able to get by as a college left tackle, so it's very doubtful he'll survive as an NFL left tackle. He's much better off moving to guard, but the Buccaneers are expected to start Smith at LT. This decision will likely slow the development of No. 1 pick Jameis Winston.
8. Green Bay Packers: Ty Montgomery (WR)
Former Stanford wide receiver Ty Montgomery is more reliable as a returner than a WR. For this reason alone, the Packers overdrafted Montgomery in Round 3. The other issue is the Packers already have a solid returner in Micah Hyde. Hyde led the NFL in punt return touchdowns last year, despite only returning the ball 14 times. He also would have led the league in yards per return, but didn't have enough returns to qualify.
9. Indianapolis Colts: Phillip Dorsett (WR)
Ryan Grigson continues to prove he is completely inept when it comes to the draft. The Colts made it all the way to the AFC title game despite having pathetic draft classes since Grigson took over. He got Andrew Luck his first year, but the scouting process was complete by the time he joined the team. The defense has several holes, but Grigson decided to pick a WR. If not for Deflategate, he'd be known around the league as the worst GM in football.
10. Buffalo Bills: Nick O'Leary (TE)
The only possible explanation I would believe for this pick is Rex Ryan just wanted to play a round of golf with Jack Nicklaus. There's no other reason for the Bills to select the golf legend's grandson. Nick O'Leary is a poor man's version of Charles Clay and slightly below Chris Gragg in terms of overall talent. Clay and Gragg are the two tight ends already on the roster. O'Leary is at best a backup H-back for the Bills.
The Latest Ranking Of Top 10 Highest Paid Football Managers: See Where Chelsea's Jose Mourinho falls
11. San Francisco 49ers: Bradley Pinion (P)
Why did the 49ers even have a punter on the draft board to begin with? Current starter Andy Lee has four years and $ 14 million left on his contract. Cutting Lee means the team would take an unnecessary cap hit, and no team is going to trade a fifth-round (or better) pick for a punter. So why would the 49ers waste a fifth-round pick on Bradley Pinion? Even if he becomes the kickoff specialist, a draft pick shouldn't have been used.
12. Cincinnati Bengals: Cedric Ogbuehi (OT)
The Bengals are ready to move on from Andrew Whitworth and Andre Smith. When the pick was initially made, the belief was that Ogbuehi would play RT while Whitworth would remain at LT for another year. But after the selection of RT Jake Fisher in Round 2, the Ogbuehi pick was questioned. He was awful at LT as a senior, so why would the Bengals expect him to play better in the NFL? D.J. Humphries or Donovan Smith would have been a much better choice.
13. Chicago Bears: Jeremy Langford (RB)
This is another pick that doesn't make sense due to the talent already on the roster. Jeremy Langford was the fastest RB at the Combine, but he's not a three-down back. He's best suited for a role on third-downs, but the Bears have that covered. Starter Matt Forte is capable of playing all three downs, as he is one of the best receiving backs in the NFL. Backup Jacquizz Rodgers is a career third-down back and Ka'Deem Carey provides the youth.
14. Dallas Cowboys: Geoff Swaim (TE)
Even without considering the fact the Cowboys traded away a sixth-round pick next year for a seventh-round pick this year, the selection of Swaim didn't make sense. Sure, Dallas is planning for a future without Jason Witten, but a Round 7 pick isn't going to fill his shoes. Swaim wasn't likely to be taken with one of the final 10 picks in the draft, so the hometown Cowboys would have been the favorites to sign him as a free agent anyways.
15. Green Bay Packers: Aaron Ripkowski (FB)
While Brett Hundley likely won't contribute for at least a few years, he was a great value pick on Day 3. However the Packers made a similar move in Round 6 when the team selected fullback Aaron Ripkowski. There just isn't enough room on an NFL roster for two fullbacks and Ripkowski is not taking John Kuhn's job. If Green Bay wanted to find the heir apparent to Kuhn, the team should have waited until next year's draft when Kuhn is a free agent.
21 Most Shocking Football Scandals
16. St. Louis Rams: Sean Mannion (QB)
For a team with so many holes, the Rams certainly weren't afraid to take a flier on a late-round quarterback in the third round. Mannion certainly has some arm talent, and could develop into a quality backup given time and proper coaching. However, for a team that has a proven starter in Nick Foles, reaching for Mannion so early was a nonsensical move.
17. Tennessee Titans: Angelo Blackson (DT)
The Titans had over 12 hours to think about this pick. Somehow in those 12 hours the team decided on the third-best defensive tackle from Auburn. Gabe Wright (who was chosen 13 picks later) and Montravius Adams (still in school) are much better prospects than Angelo Blackson. The Titans are headed for a long playoff drought if the team thinks Marcus Mariota is going to be the savior of the franchise and a third-string college DT will contribute
18. Tennessee Titans: Jalston Fowler (FB)
There was so much indecision from the Titans in this draft. Adding Jalston Fowler, the No. 1 fullback in the draft, would have been a great move if the Titans stuck with Zach Mettenberger at QB. With Marcus Mariota on board, there's no need for a FB. The Titans must decide whether to implement the Oregon offense or not; there's no in between. Mariota is not going to succeed in a traditional NFL offense, so why waste a pick on a FB?
19. Oakland Raiders: Neiron Ball (OLB)
Even for a fifth-round pick, Ball made zero sense. The Raiders actually have a fair amount of talent at outside linebacker with Khalil Mack and Sio Moore holding down the starting spots. Ball was draped in medical red flags coming out of Florida, and is coming off a micro-fracture knee surgery. To top it all off, he's a modest talent at best with limited athleticism and strength. For a team desperately trying to rebuild, Ball was a wasted pick.
20. Kansas City Chiefs: D.J. Alexander (OLB)
Coming into the 2015 NFL Draft, the last thing the Chiefs needed was another outside linebacker. Between Justin Houston, Tamba Hali and 2014 first-round pick Dee Ford, the position was pretty much loaded. However, when Kansas City was on the clock in the firth round, they decided to go with the subpar talent of Alexander. The former Beaver was a fringe NFL talent at best, and the Chiefs made the mistake of taking him early on Day 3.