A beach is a good place to chill out during weekends and holidays. It can also be a serene hide out for writers experiencing writing block. With the cool air blowing and the water waves splashing, one's mind will definitely be at peace with nature. Beaches typically occur in areas along the coast where wave or current action deposits and reworks sediments. Some beaches are made by man while others were created alongside with earth. These natural beaches are usually referred to as wild beaches and are highly valued for their untouched beauty and preserved nature.
See Also: Top 10 Most Lavish And Inviting Resorts In Asia
White is not the only color beaches come in, although most people imagine all beaches to have white sand. Across the world there are beaches filled with pink, orange, green, red, purple, and even black sands. Most times it is years of volcanic activities or miniature coral fragments that mix with white sand to form other lovely colours which usually has a dazzling effect. From the Papakōlea Beach in Hawaii to the Rainbow beach in Queensland, here are twenty of the most colorful beaches in the world.
1. Papakolea Green Sand Beach – Hawaii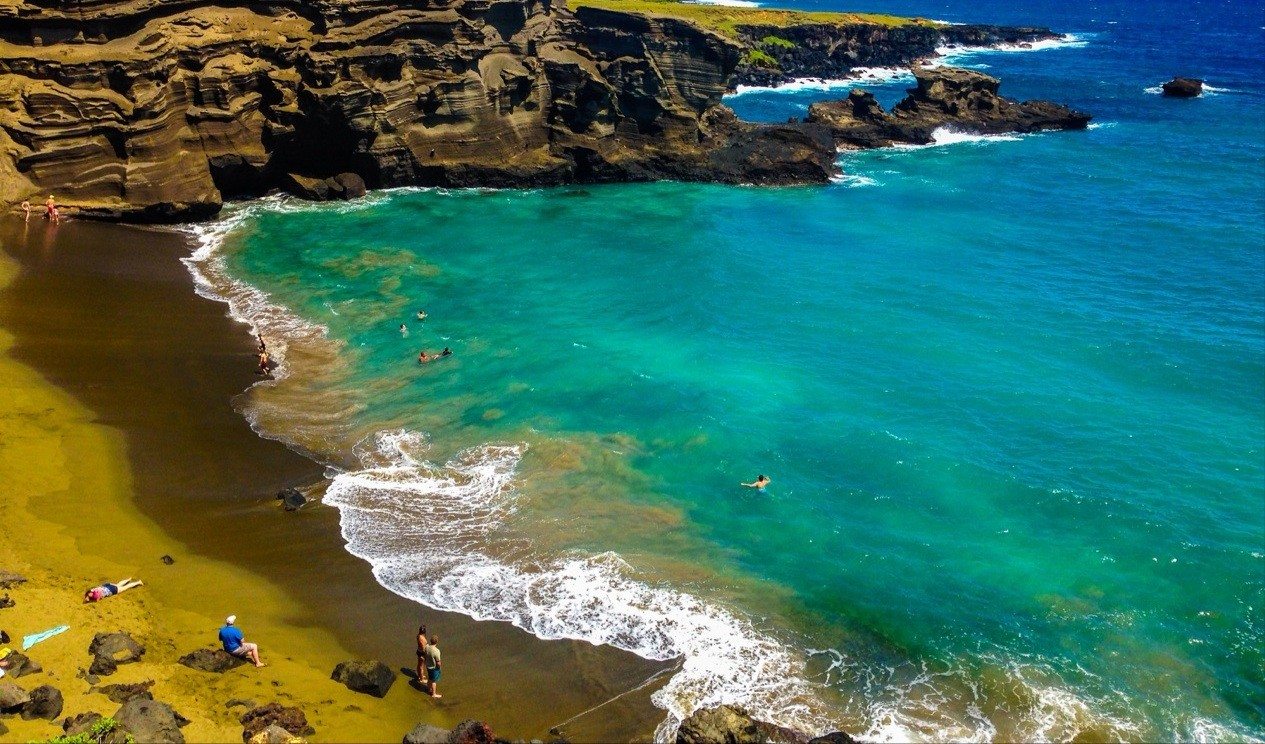 Papakolea Beach is located on the southern tip of Hawaii's Big Island. Due to its colour it is nicknamed Green Sand Beach. The green sands basically come from olivine crystals from surrounding lava rocks in the Pu'u Mahana cinder cone of Mahana Bay.
2. Santorini Beach – Greece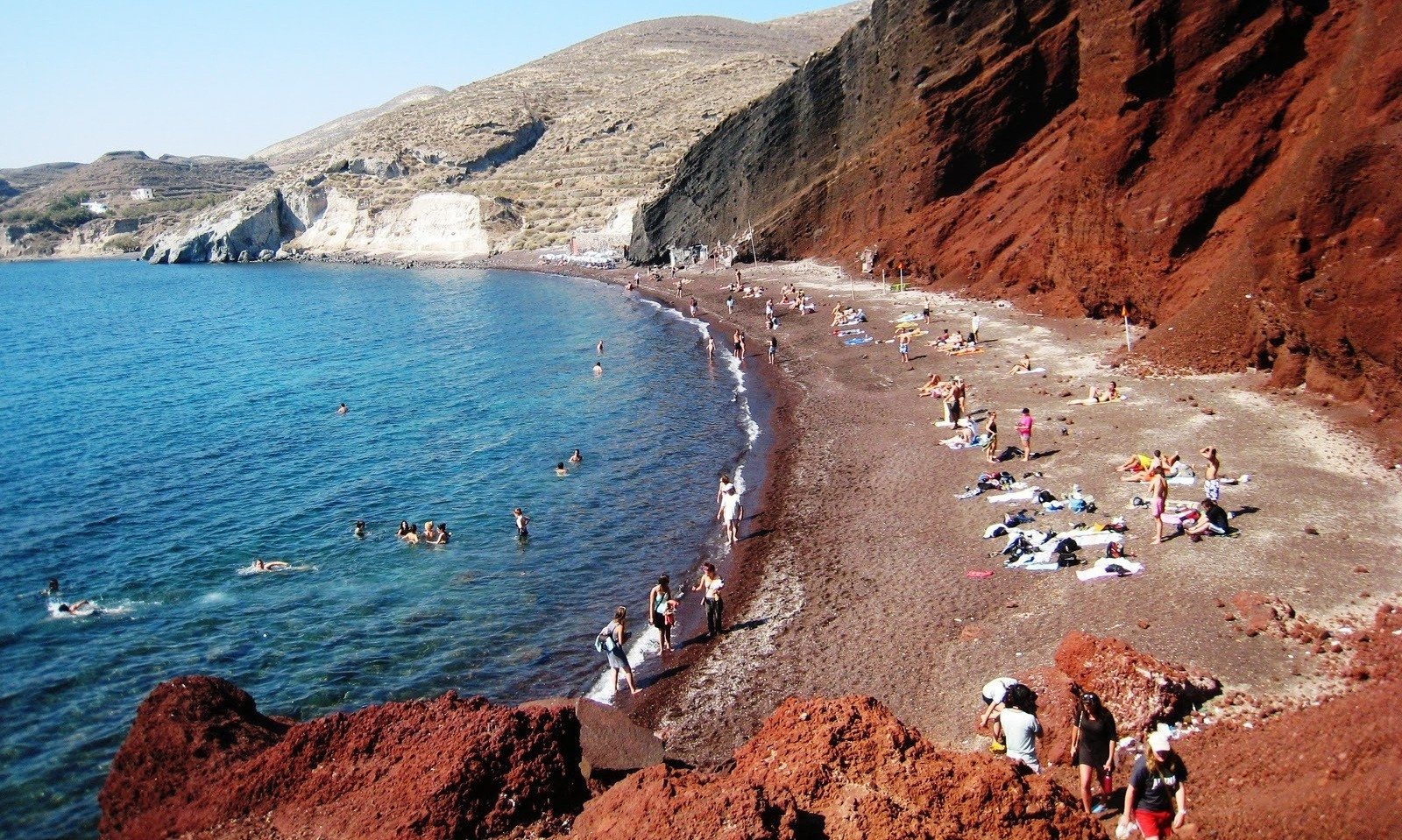 Ever seen a read sand beach? Somewhere called Santorini in Greece has one. Some iron-rich black and red lava rocks are responsible for the red colour of this beach sand.
Check This Out: 10 Must-Visit Romantic Honeymoon Locations In Asia
3. Tangsi Beach – Indonesia
Tangsi Beach is known as the Pink Beach and is actually one of two beaches in Indonesia that has pink-colored sands. This colour is as a result of the mixture of white sands and tiny fragments of red coral. Tangsi Beach is located in Lombok, Indonesia, while the other beach is located at Komodo Island.
4. Red Sand Beach on Kaihululu – Hawaii
This is another beach nicknamed Red Sand Beach is Kaihululu in Maui, Hawaii. There is a volcanic cinder cone surrounding the beach, which is where the red sand comes from.
See Also: Asia's 10 Tallest Buildings Of 2015
5. Maltese Island Ramla Bay – Gozo
Ramla Bay is located on the Maltese island of Gozo. It is home to dreamy orange sands along its coast, thanks to a high iron content in its sands. Also, at Ramla Bay you can explore Roman ruins in the nearby Calypso Cave
6. New Zealand's Muriwai Black Sand Beach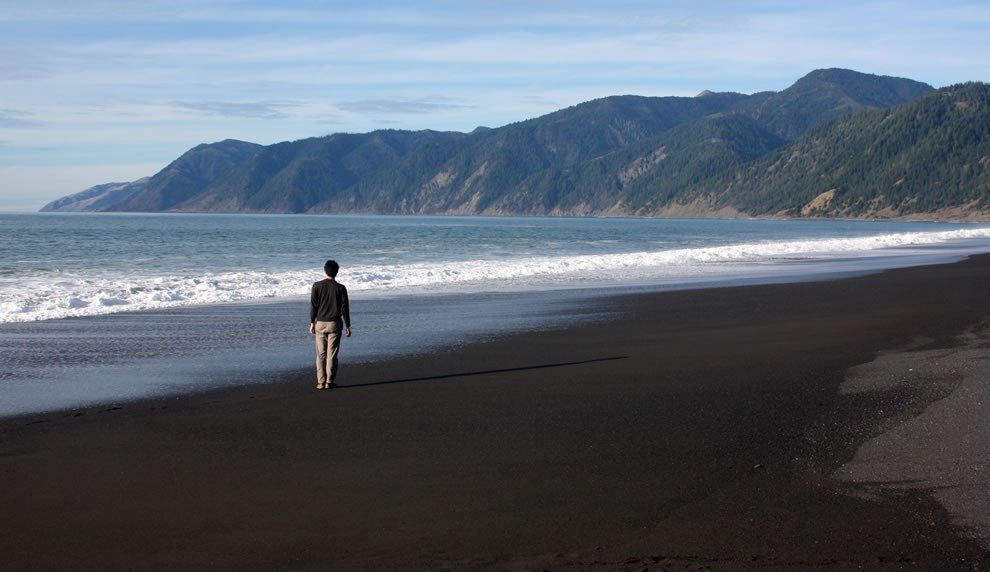 New Zealand's Muriwai Black Sand Beach can be found in Auckland. this beach offers 37 miles of sparkling back sands that are the result of the island's volcanic past. The black color comes form a mixture of iron, titanium, and other volcanic materials.
7. Punalu'u Beach – Hawaii
Punalu'u Beach is located between Pahala and Naalehu, in Hawaii. It is also known as the Black Sand Beach because of the stark of black sand it has which was caused by basalt from volcanic activity.
See Also: 10 Photos That Make Hanoi One Of The Most Beautiful Places On Earth
8. Porto Ferro in Sardinia – Italy
Porto Ferro in Sardinia, Italy has bright orange-colored sands. This resulted from orange limestone, crushed shells, and volcanic deposits in the area. If you happen to pay this beach a visit, you can head to the 65-foot high sand dunes behind the beach – it is fun.
9. Horseshoe Bay – Texas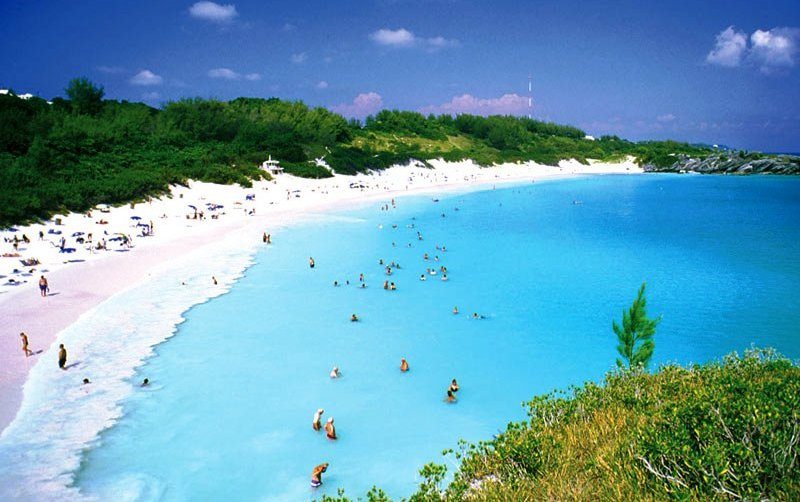 Horseshoe Bay is one of the pink sand beaches you'll find in Bermuda. The beach is located in Southampton and offers miles of rosy sands resulting from a mixture of crushed shells, coral, and calcium carbonate.
 10. Harbour Island – Bahamas
Broken coral pieces, shells, and calcium carbonate form the pink sands beaches found at Harbour Island in the Bahamas.
 11.  Vík í Mýrdal Beach – Iceland
This is the black beach in Vík í Mýrdal, Iceland. It has a strange holiday camp feel to the village but the beach seems so weird – looks like a dead zone in a horror movie. The beach gets its dark-colored sand from basalt deposits.
Check This Out: 35 Most Beautiful Places You Must Visit Before You Die!
 12. Shelter Cove in Humboldt County – California
Shelter Cove in Humboldt County, California has a rather in-between colour. It has slightly lighter tone than the Vík í Mýrdal black beach. Shelter Cove has gray-colored sands resulting from years of erosion from the nearby cliffs along the shore.
13. Hyams Beach in New South Wales – Australia
There are many white beaches across the globe, but we chose Hyams Beach in New South Wales, Australia, because of its listing in the Guinness Book of World Records as the whitest beach. The tiny quartz particles present in the sand are responsible for its snow-white colour.
14. Pfeiffer Beach in Big Sur – California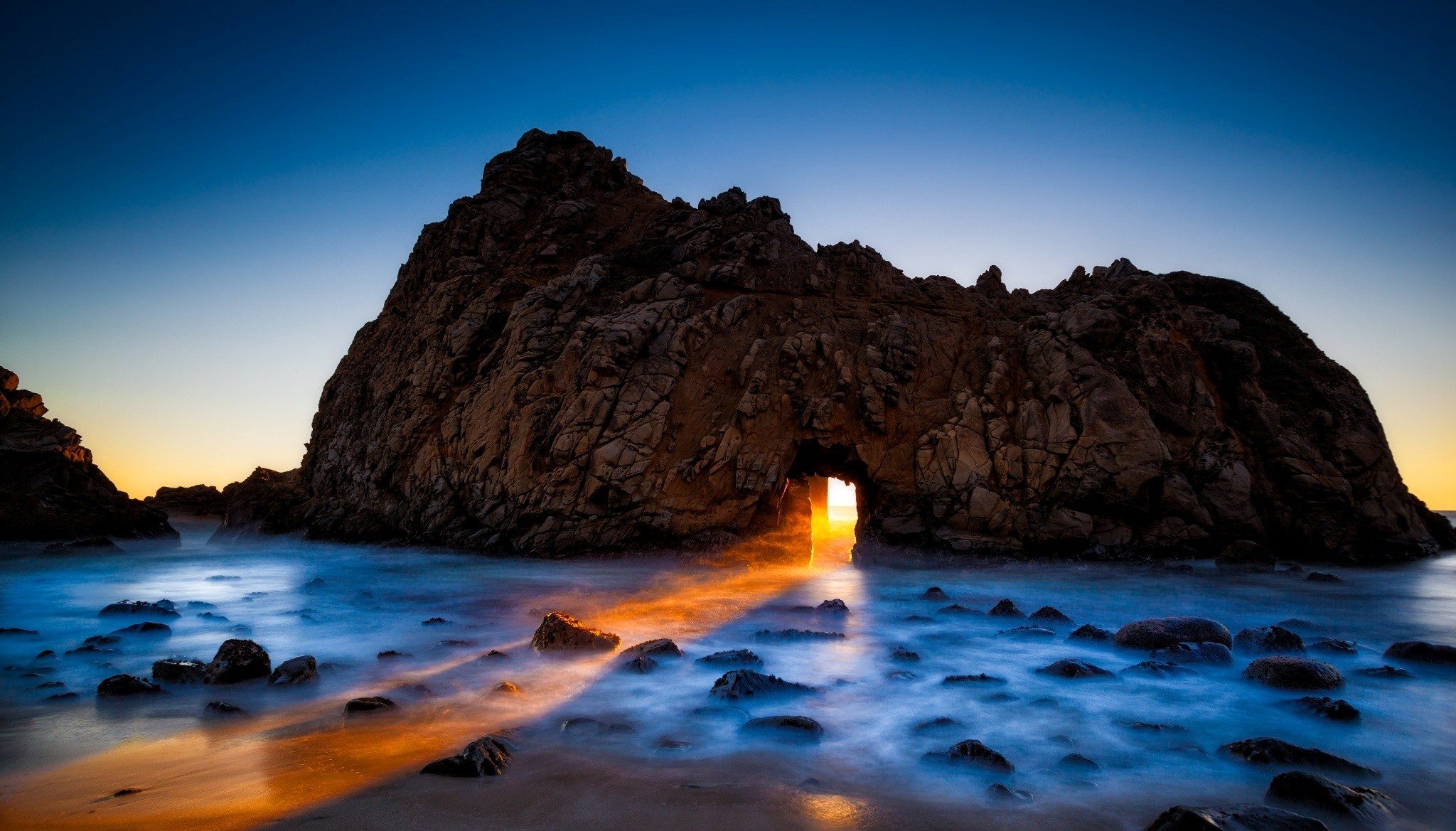 Pfeiffer Beach in Big Sur, California has patches of violet sand on the northern coastline. The colour is due to quartz and manganese garnet deposits from the nearby hills that washed down to create the purple colors. This colour is most visible after storms.
15. Morro de Sao Paulo – Brazil
At Morro de Sao Paulo there's always a vibrant atmosphere with the presence of reggae bars, hippy dives, crowds and terrific seafood restaurants. The beach sand is beige in colour while the water is turquoise green.
16. El Cabo – Colombia
El Cabo is the most popular spectacular beach in Tayrona National Park which spreads over 150km of jungle-clad land. The beach water has several rocks in it and the beach sand has both coarse and fine light brown sands.
17. Aharen Beach – Japan
Aharen is particularly known for its extraordinarily clear waters sheltering a rich marine life, including over 400 types of coral, majestic humpback whales, five types of sea turtles and huge army of colourful tropical fish.
18. Cayo Largo – Cuba 
The highlights on Cuba's Cayo Largo (Large Island) are its two western beaches, Playa Sirena and Playa Paraiso, where warm shallow waters lap ribbons of pale, downy sand. The beach has lots of bush bars around and its sand is off-white in colour.
19. Perhentian Kecil – Malaysia
Perhentian islands, Kecil is located in Malaysia and is home to two dazzling beaches – Coral Beach and Long Beach – both of which are lined with beautiful light coloured beach sand and friendly guesthouses and relaxed shack eateries.
20. Rainbow Beach in Queensland – Australia
Rainbow Beach is found in southeastern Queensland, Australia. It has as many as 72 different colors that can be spotted thanks to nearby multi-colored sand cliffs. The sands were said to have been formed by a rainbow-coloured spirit plunging into the cliffs following a battle with a wicked tribesman. The beach has one of the finest views during sunset as the reflection of the sun on the multi-colored sands gives numerous sparkling effects all over the beach. Also this beach is rich in ilmenite, zircon and rutile.
Check This Out: Top 25 Most Peaceful Countries In The World – 2015