Swimming pools are the next best thing to swimming with sharks in the open sea. Are you looking to swim in inviting pools of crystal-clear water ranking among the most beautiful pools on earth? Search no further. We have come up with a selection of the most beautiful and exotic pools around the world. These pools are lavish, alluring, and are surrounded by spectacular scenery and breath-taking views. As a matter of fact, they are swimming pools that can make you forget all of your worries as you dip yourself in sparkling waters of different colors. Read on to see some of the most exotic pools on earth that grant swimmers unforgettable swimming experiences.
See Also: 20 World's Most Colored-Sand Beaches
The Pool at Hanging Gardens Ubud Hotel in Bali – Indonesia
The pool at Hanging Gardens Ubud hotel is located at the geographical heart of the property and is one of the world's most known and exotic swimming pools. It is a beautiful split-level infinity pool, lined with Batu Candi stone. It has a big geometric wall of solidified volcanic ash, suspended high above the surrounding jungle and appears to float in its environment.
Infinity Pool at Marina Bay Sands Resort – Singapore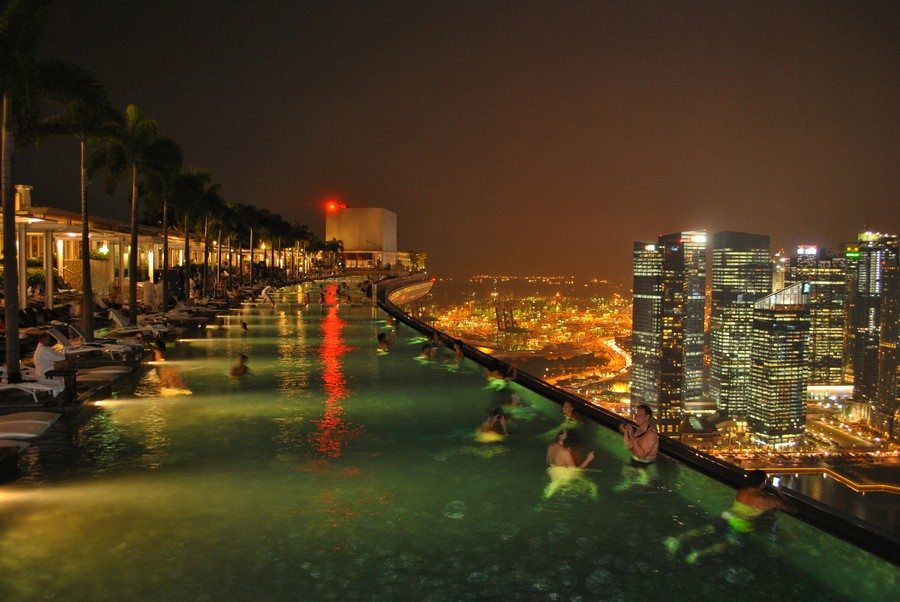 Infinity pool is one of the world's most amazing hotel rooftop pools that provides the most breathtaking city-skyline view in Singapore. Set on an architectural marvel stretching 150 metres across Sands Skypark, the stunning outdoor Infinity Pool is the world's biggest at this height.
See Also: Top 10 Most Lavish And Inviting Resorts In Asia
Gold Energy Pool at St. Regis in Lhasa – Tibet
Gold energy pool is a 24 caret gold-plated pool located at the St. Regis Lhasa Resort in Tibet. It is lined with thousands of gold tiles and looks out to views of the Himalayas Palace and resort lake.
Chongwe River House Pool in Zambia – Africa
Located right along the Chongwe River, the pool at this Zambian resort will let you bathe just yards away from wild African animals like elephants, impalas and kudu.
See Also: 10 Must-Visit Romantic Honeymoon Locations In Asia
The Pool at Belmond Jimbaran Puri Resort in Bali – Indonesia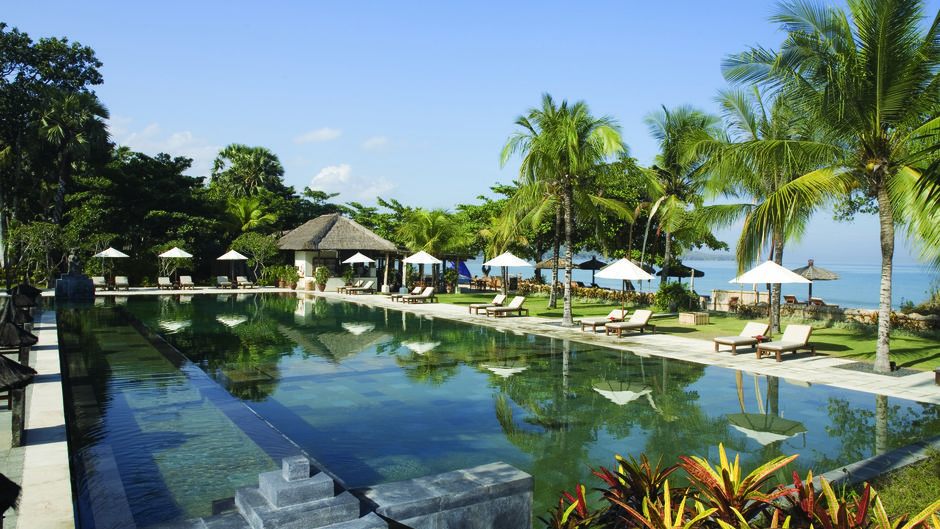 The  pool is terraced into the middle of the landscape and features blue-green natural stone tiles and fresh water cascades from fountains. Palm trees rustle overhead and fragrant flowers fringe the edges offering swimmers a very cooling dip.
Crocosaurus Cove Aquarium – Australia
This offers swimmers the opportunity to swim up close and personal with crocodiles in the same pool as these predators swim through the incredible state-of-the art aquariums and pools of Crocosaurus Cove. Swimmers are submerged into the pool while the crocodiles stay inside the fully glass walled and bottomed cage.
See Also: 10 Yummy Turkish Cuisines Every Tourist Must Taste
Pool at the Velassaru Resort in the Maldives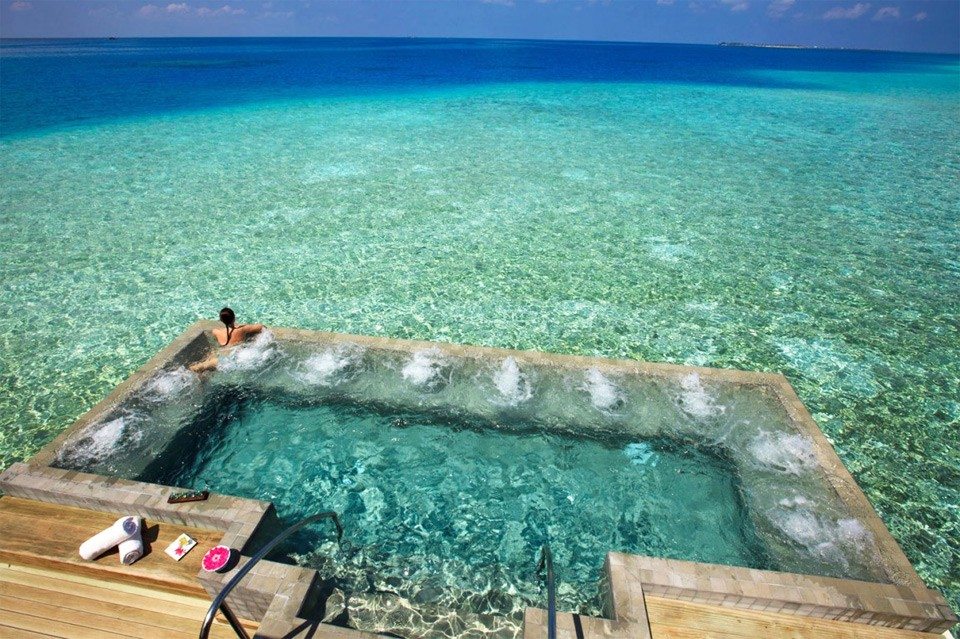 The outdoor pool at the Velassaru Resort in the Maldives is another exotic pool. Set inside a lagoon, the infinity pool offers a full glorious sea view with a wall that opens out onto an over-water terrace.
The San Alfonso Del Mar Seawater Pool in Algarrobo – Chile
With it's 1,013 m length and an area of 8 ha that covers over 20 acres, this amazing pool was completed in December 2006 and has been recognized as the largest outdoor swimming pool in the world. It was listed officially as the largest swimming pool by area in the Guinness Book of World Records. Swimming here would mean stroke after stroke for more than three fifths of a mile – that's 20 Olympic-size swimming pools.
Golden Nugget pool in Las Vegas – Nevada
This swimming pool's water slide runs directly through the hotel's giant aquarium, which is full of tuna & sharks. So if you have been longing to swim beside a shark without actually heading off to South Africa and scuba diving inside a steel cage, then head over to the pool in Golden Nugget in Las Vegas.
Neptune Pool at the Hearst Castle in San Simeon – California
Neptune Pool located at the Hearst Castle in San Simeon California overlooks the magnificent mountain landscape, the Pacific Ocean and the main house or Casa Grande. The pool is typically a touch of luxury with a wonderful colors.
The Library Pool in Koh Samui – Thailand
No honey, it's not blood; this color is due to the glass tiles of orange, yellow and blood-red color used in building the pool. This spectacular pool occupies a central place of the main buildings which are set along the beach.
Cambrian Pool – Switzerland
The Cambrian outdoor pool let's you see what the world looks like in the morning and what it looks like at night. The fabulous outdoor pool offers a magnificent mountain panorama.
The Pool at St Leon 10 Residence Capetown – South Africa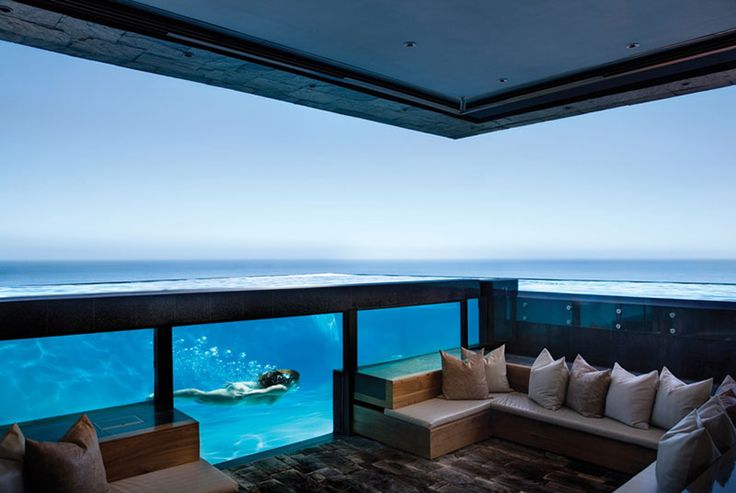 St Leon 10 Residence is located near the Lion's Head Nature Reserve in Cape Town's most exclusive 'wind free' suburb of Bantry Bay. It is overlooking one of the most  magnificent coastlines in the world with unprecedented views of the 12 Apostle Mountains, Clifton Beaches, and Robben Island in South Africa, the altruistically modern luxury. It's Pool with transparent walls and a view of the ocean makes the spot even more amazing.
 Nandana Villas Pool – Bahamas
Nandana Villas pool is where sea and pool merge. The pool at Nandana is private, calm, peaceful and seems to drop straight into the Atlantic. It is the focal point of this Balinese-style property.
The Rooftop Pool at the Standard in Los Angeles – California
This pool offers panoramic views of the City of Angels from a rooftop 12 stories up. The turquoise water contrasts dramatically with the deep red Astroturf of the surrounding sundeck, where there are also bright red water-bed canopies housing up to 10 poseurs apiece. The pool turns an entertainment space at night with an open fireplace, dance floor and bar.
Sanctuary Swala's Pool in Tanzania – Africa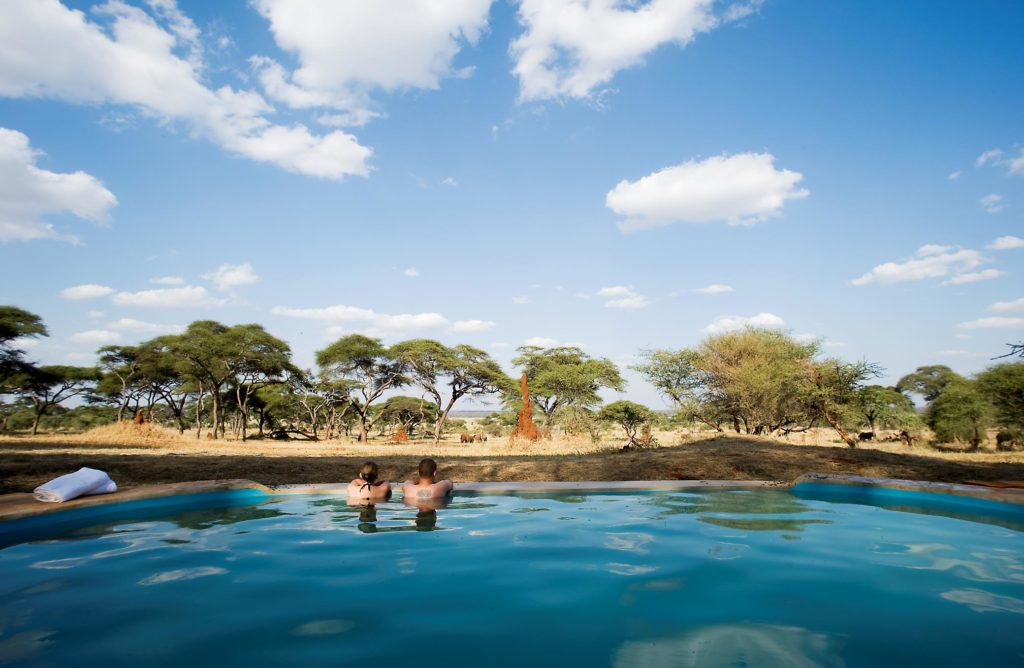 Overlooking a water hole in a secluded area of Tarangire National Park, this pool offers views of elephants and rare kudu antelopes against a backdrop of Africa's dramatic baobab trees.
The Skye Hotel Pool in São Paulo – Brazil
The pool's unique but strange name is after the windswept Scottish island. Skye is actually the spectacular crimson rooftop pool of Hotel Unique, a luxury boutique hotel constructed in the gravity-defying shape of an inverted arc.
The pool at Alila Uluwatu Resort in Bali – Indonesia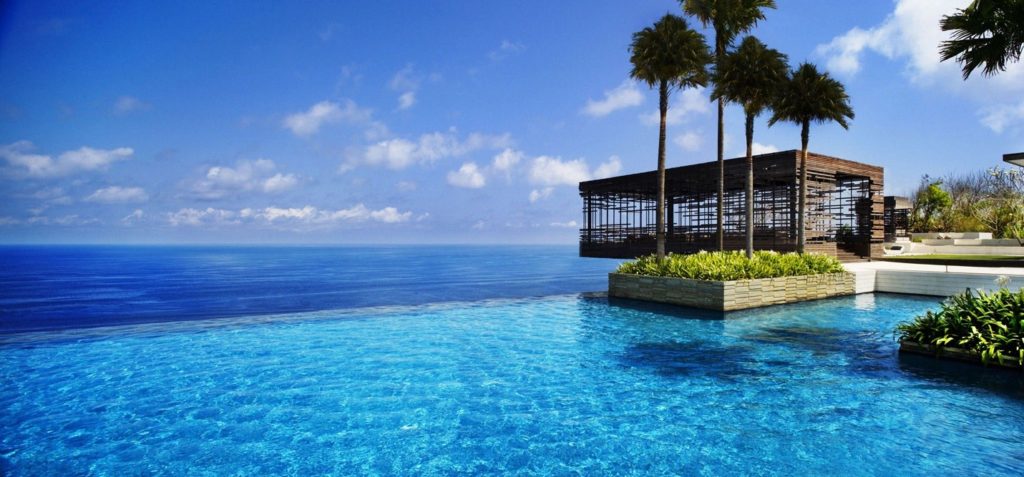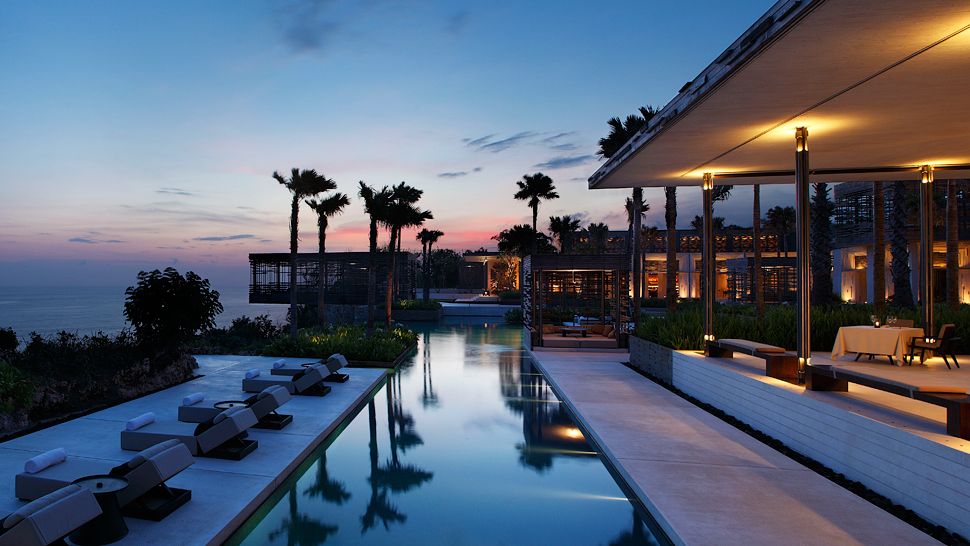 This spectacular cliff-top infinity pool seems to float in space. There is a cage at the end which might be scary but is actually a user-friendly cabana designed for a look out over the horizon in comfort.
The Mardan Palace Antalya Hotel Pool – Turkey
Turkey's Mardan Palace not only spoils you with its opulent beautiful settings, it does offers you a unique swimming pool with a swimming reef making sure you have amazing recreational activities while you are there.
 Giola Lagoon Natural Pool Near Astris Village on Thassos in the Greek Islands
A naturally built sea lagoon with crystal clear turquoise waters. The swimming pool is a natural swimming pool located near the village Astris in Greece. It features a rock on the beach and houses a wide hole filled with splashes of wave which slides down through the stony layers of the rock around the lagoon.
Katikies Hotel Pool in Santorini – Greece
This pool is a cave pool in Santorini Greece. It provides breathtaking panoramic views and the environment exudes pure romance making it fit for honeymooners, romantics and couples.
Pool at the Qualia Hotel on Hamilton Island
This infinity-edge pool makes views over Coral Sea easy. It is without doubt beautiful and its surroundings are breathtaking with stunning views across the horizon.