These days, you can have more fun on your gadgets like never before. With a lot of applications on your phone and laptop, you can always use them to become smarter. Here are some very cool apps you can use to help your memory, challenge your IQ and expand your brain. Whenever you feel lonely or bored, these apps will keep you company while working magic on your mind and brain. Whether you use an iPhone, Android phone or window phone, there's something on this list for you. The following gadget apps will lead you to a smarter life.
See Also: Top 10 Most Popular Blogs on The Internet
1. Brain Fitness Pro

Brain Fitness Pro has the capacity to increase your short-term memory by "more than 40% in less than 20 days. All you need is just 30 minutes of daily training on the app. It implements the n-back neuroscience exercise.
2. Casual
Casual helps handle tasks and projects in a total new way: The application is amazingly visual. You plan your tasks just by drawing them as a flowchart. Casual helps visualize dependencies between tasks. You don't have to click on tabs to find out about certain aspects of projects, such as who is doing which tasks. You can try this app for free to see if it works for you.
3. Lumosity Brain Trainer
Lumosity's Brain Trainer is one of the more name-brand apps in the space. It provides you with a variety of timed exercises to stretch your cognitive abilities. The app can be gotten for free, but there's a subscription fee attached to get the most features out of the app.
4. Personal Zen
Smart people can control their stress, so says Personal Zen. This application has been clinically proven that you can reduce stress by just playing a fun game. The app was built by a team of leading neuro-scientists and mobile developers. Playing Personal Zen actually helps your brain to lower stress and anxiety. The brain works better and smarter when fully relaxed.
Check This Out: Can You Detect What's Concealed In These Photos? It May Shock You.
5. Eidetic

Eidetic is another app that can help you work on your memory. It throws a variety of memory exercises your way to help boost your ability to remember things. To show that you are smart, you need to memorize interesting and important words and facts. You can download this app on your phone for almost no fee.
6. Cloudswave
You can become a smart spender by using Cloudscore. This free app directory allows you to get the best deals on all of the software and web applications for your business and your personal life. It has a father app; Cloudswave where you can also find the Cloudscore, a rating based on carefully selected Expert Reviews computed to help you capture the essence of critical opinion in a single number.
Click Here: You Wont Believe What Someone Is Willing To Share With You Within These Walls
7. mTrainer Pro

mTrainer serves as a brain gym with a collection of various brain exercises in it. The app piles up a bunch of cognitive tasks into one. It gives your brain new experiences that will keep it healthier as well as sharpen your mind. This is a gym that won't make you break out in a sweat. Instead, you can try some fun brain exercises by just downloading the mTrainer.
8. Critical Thinking University Think-O-Meter

Critical Thinking University Think-O-Meter presents you with a number of hypothetical situations and quizzes you on the details. It evaluates your attention to detail and your ability to make decisions of sound reasoning.
Check This Out: 10 Most Popular Gadget Websites For All Your Gadget Needs
9. iBooks
Reading is a means of thinking with another person's mind; it forces you to stretch your own. When you think you don't have time to read, IBooks can be  your mobile library. When taking that long train ride or while waiting, during lunch break, on a queue, you can read 10 pages of your favorite book on IBooks. There really is no excuse for not reading as much a you want to when you have the free iBooks app with a huge library that is constantly growing.
10. Memory Trainer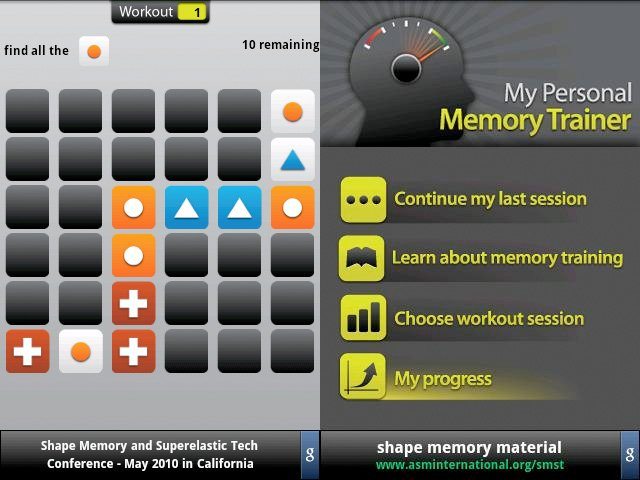 Puzzle games alone are not the only things that can make you smarter. Memory Trainer also has the functionality to put your brain through its paces with varied matching games. If you are an Android user, you can enjoy this cool app on your phone. It really makes you use your brain to remember things and the best part is that it is fun when you get to play matching games.
11. Fooducate
Have you ever wondered why good food rarely looks as good as junks, which are not healthy? With this free app, you can find that good food that actually looks good and tastes twice as nice as it looks. Fooducate is all about your taste buds and health. With this app, you can scan items for nutritional information, and find out which foods are the best for you, the best buys, and of course, the most enjoyable.
12. Brain Trainer Special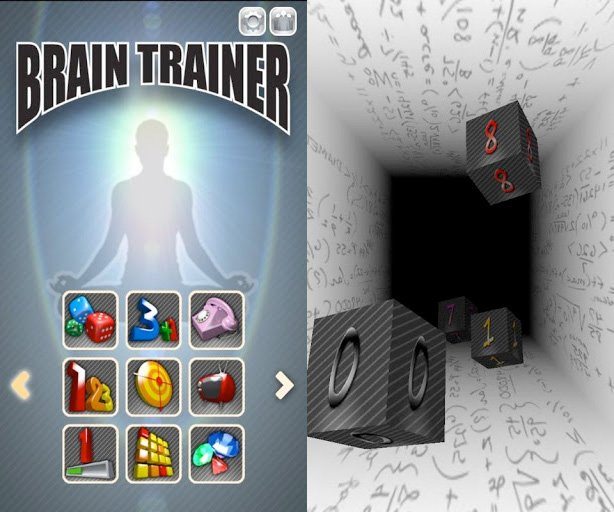 This is an advanced version of Brain Trainer. It is your brain gym on the Android side. It has a collection of games that will help you memorize letter sequences, phone numbers, and solve assorted math problems to keep your mind on its toes. This app is absolutely free and is available in these game modes: math ninja, letter sequences, number sequences, memory trainer (pictures), speedy shapes, memory letters, memory numbers, tricky colors, memorize 123, 3D CUBES, target mode, phone numbers, and question mode.
13. SmartThings

SmartThings is a smart home app for smart people. Control all of the devices in your home with the easy-to-use SmartThings app that turns your smart phone into a remote. You can turn off your lights, lock your door and even set passwords with SmartThings.
14. Math Genius Brain Trainer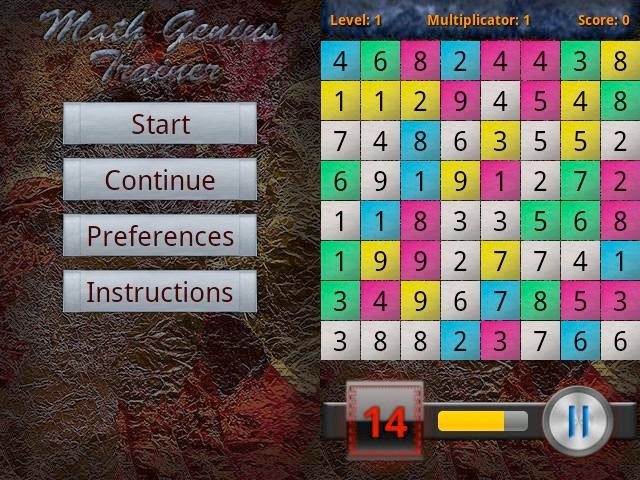 Unless you planned on working in a math-oriented field, you probably hated math classes as much as most of your classmates did. But one thing you didn't consider is that Math develops critical thinking and problem-solving skills—it makes you smarter. This math-based number game offers an infinite number of difficult settings to make sure it's always a challenge for you to solve. The app is up for free download, brace up and play math games that will help improve your skills and thinking.
15. Brain Workshop

If you are like some of us who still don't have mobile phones, don't despair. There are apps for us too. If you'd rather use your desktop, Brain Workshop comes highly recommended. Brain Workshop is a free desktop app that you can use to improve your brain power, and no cell phones are necessary. But for those who have Android phones, there is a similar app on Google Play.
16. Owl
Do you love to astound your friends with oddball facts? Then you can get all of the fun and off-beat trivia you can handle with Owl. It is a free app that gives you one fun fact each day. Become smarter with interesting facts you never heard of on this amazing app.
See Also: 10 Beautiful HTML 5 Websites That Looks Like Flash
17. Atlas by Collins
The Atlas by Collins is a cool app that allows you travel all around the world with a flick of your finger. It also helps you see all the new beautiful places on the globe. With this app, you are sure to discover incredible information about the world's most important places and artifacts. Learn about the world using nine globes, a variety of maps, and other fun tools.
18. Flipboard
If you are always the last to know what is going on in the world around you, that has got to change. Be the first to get the latest gist and tells others about it. By using the free Flipboard app, with one tap and touch control, you easily get all the news just as they are happening.
 19. Circles Memory Game
Your memory affects your ability to quickly and easily retrieve and apply stored information in situations when you need to solve a problem – and your ability to solve problems is often defined as intelligence. Therefore, memory and intelligence are almost like two sides of the same coin. Not only can you improve your memory, but you will also be supporting Alzheimer's research by getting this Circles Memory Game app. You'll have fun too.
20. Lumosity Mobile
Train your brain to become smarter, and have mad fun doing it. Experts say the side effects of using this app is amazing – they include improved memory, a longer attention span, and better work performance through fun games and puzzles. The app doesn't cost anything to use – its totally free.
21. Fit Brains Trainer
Research shows that online training is an effective way to build cognitive reserve and increase brain performance. Fit Brains Trainer is free to download and can help you increase your short-term memory by as much as 40% in less than three weeks. Obviously, you need this to be smarter.
22. Clockwork Brain

Studies have shown that "mental aerobics," such as solving puzzles, are an important part of a healthy lifestyle. Learning was never so much fun, and you will actually get addicted to improving your brain power with Clockwork Brain.
You Might Want To See These: Best 25 SEO Blogs of 2014
23. The New York Times Crossword

Crosswords make you smarter no doubt. They also make you think in different ways, attack problems in different ways, and expand your vocabulary. Just playing the crossword puzzles can improve your intelligence. The New York Times Crossword is one of those puzzles that will enhance your mind as well as your brain. This app is totally free and has the same crossword puzzles that are published every day in the newspaper.
24. Blocks

Blocks can be classified as children's game. But you too can be a kid again and play with blocks, only these blocks will improve your brain power. To play successfully, you need to move the pieces to get out, and you need to use logic to do it on this app.
25. Toggl

Time management is a common sore spot among many intelligent people. No one knows exactly where time flies to, no-one. But with this app, you can find out. You simply tell the app what you are doing, start the timer, and stop it when you are finished. You will be able to have a hold on your time and manage it better. The basic version of toggl is free. If you want all of the features, it's just $5 per month.
26. RescueTime
Work is boring, and social media websites are fun. But, you may be spending too much time socializing, and not enough time working. This app, lets you see how much time you are spending with various websites and applications. Track how long you spend on reading useful information and extend this time. You should make this one of your most used apps – it will come very handy for internet addicts.
See Also: 20 Playful Office Space Design Tips and Ideas
27. My Minutes
Do you often find yourself wasting too much time on certain tasks? Then spend your time smarter and use My Minutes for free to set time limits for everything you do.
28. Timesheet
With Timesheet you don't even have to lift a finger to type for tracking and billing work hours. Simply tell it what to do with voice commands. This app is great for those who love telling others what to do.
29. Eternity
Inner balance is one of the crucial features of modern intelligent people. Work, home, kids, fun, all takes your time and you need to balance it. Eternity lets you categorize everything you do and creates a balance in your work sphere.
30. Now Then
Now Then helps categorize the things you do smartly. It gives record and analyse what you spend your time doing. With this app you can also identify your misused time.
Check This Out: Top 10 Social Networking Websites
31. ATracker
ATracker helps you track everything you do, so you always know what to do and when to do them. ATracker creates beautiful reports in a pie chart and bar chart which you can share via Facebook, Twitter and email. You can also export data in CSV format using this app.
32. Timely
With Timely you can know who did what and when, who's doing what and when. Either way, you'll know the answers that might make your work day less stressful. This app helps you plan for new projects, delegate work to employees and see who's got too much on their plate, who needs more work and who is done for the day.
You Can Also Read This: 5 Recent Scientific Discoveries Determining Current Event