Seems like bakers around the world held a meeting on how to make mind blowing extra-ordinary cakes. Originally, cakes were modified breads, but now they cover a wide range of edible flour mixtures portraying various characters, themes and designs. Everyone loves to have a piece of cake, no matter how small to satisfy their taste bud. From weddings, to birthdays, graduations, baby showers and even funerals, cakes play a huge role in every event. However, some cakes have weird designs that are not conventional with what we are familiar with.
See Also: 10 Recommended Dishes You Should Try This Year
The cakes on this list were probably baked by people who went over the line to either impress someone, make a statement, or were attempting to be innovative. Some of the cakes are fair to look at, others horrible, while some others, gory. So brace yourself through the list below of the most unusual cakes ever made.
1. Vomit Cake
To be sincere, if you were offered this cake on your birthday, would you feel great looking at it, and attempting to take a bite? To add to the mess, the baker decided to add insects and worms, as a nice touch. Well, this is far from nice.
This Woman Made Something Spectacular By Popping Milk and Chocolate In The Microwave
2. Mimicking Mickey
This cake is almost nice, but it's hard to tell which Disney mouse this creepy cake is supposed to be. Definitely not Jerry.
3. The Angry Cake
Since its a green figure smeared with black, let's assume this is a failed hulk character cake. Not only does the cake look disastrous but it looks like hulk was smeared in tar instead of icing sugar.
4. Food Poison Cake
This cake is very colorful and inviting, but I can't seem to see any flour. The cake is a mixture of different classes of food and might just be the poison needed to kill a rat. It has nuts, vegetables, proteins, honey and what else? I guess it was made for a vegetarian or by a vegetarian.
5. Toilet Cake
This doesn't look bad for a real toilet, its quite clean and organized. But for a cake? Its a no no. Eating any part of the cake might require a lot of guts, as it will remind you of poo no matter how sweet it tastes.
See The Amazing Result Of Making A Hole In A Potato Before Cooking
 6. Jordan's Grave
Isn't this repulsing? Halloween parties not only have wacky costumes and scary looks, but also cakes. Whoever thought of making this cake must be a fan of horror movies, and the eaters too should love thrillers.
7. Baby Birth Cake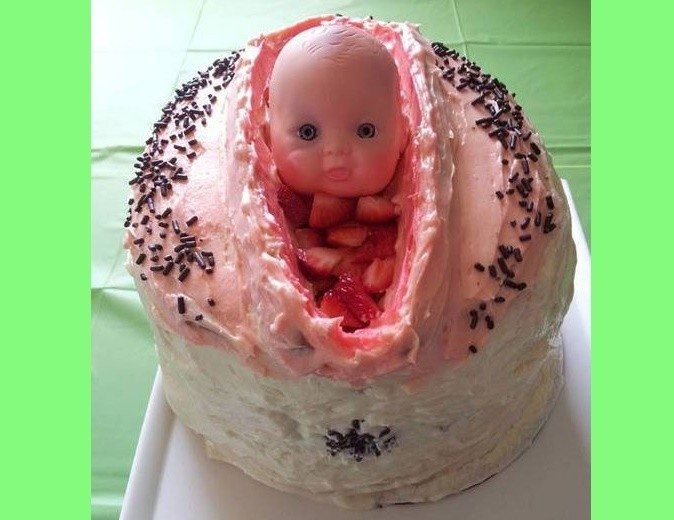 Creamy bodied cake depicting a woman's vulva and a doll in it might just be all you need to get turned off. Child birth is a beautiful and amazing thing, but it belongs to the hospital not a baker's table.
8. Lazy Cake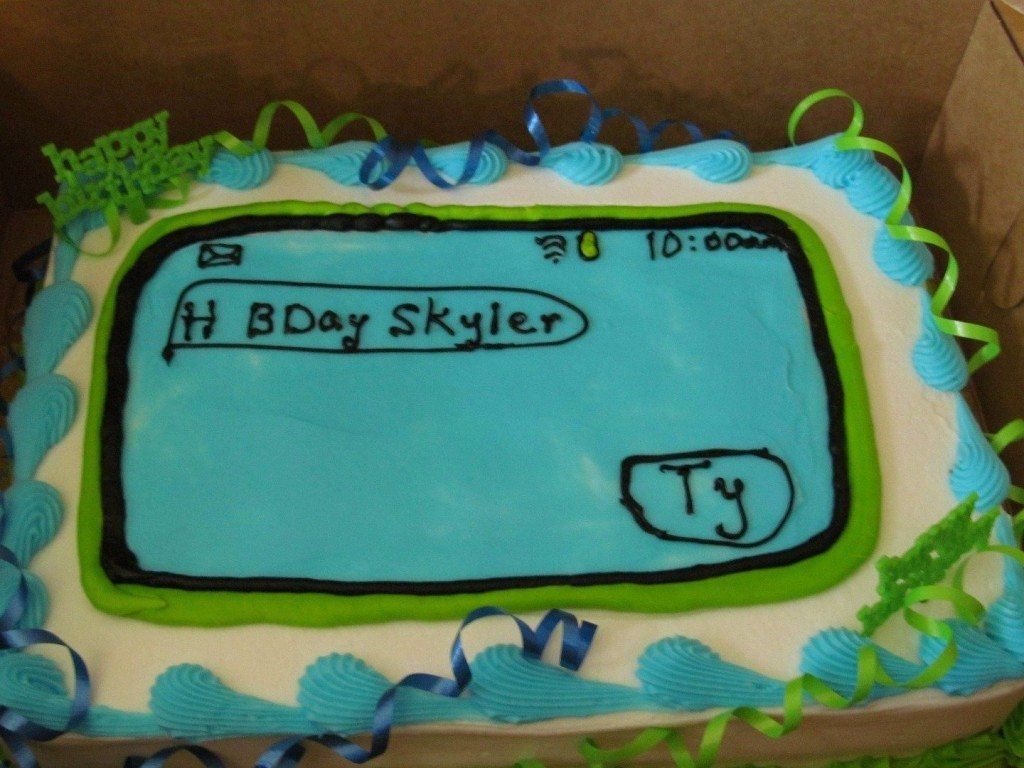 This cake portrays that the celebrant is lazy and spends a lot of time on his phone. Nice.
9. Human Brain Cake
This is what you get when the baker has too much brains. A cake like this would cause goose pimples to rise all over the taste buds. Let's hope this was either made for a neurosurgeon or for Halloween.
10. Insect Cake

For the record, this is a cake served as a regular dessert in Don Bugito restaurant, San Francisco. The cake is topped with insects and maggots.
 11. Saw & Arm Cake
Would you eat this?
12. Boobs Cake
We see this a lot in bachelor/spinster parties. Its just as weird as some other cakes showing the human reproductive parts.
13. Duck Cake
This duck would have been a really cute cake if not for the popcorn and potato chips added to it.
14. Cat Poo Cake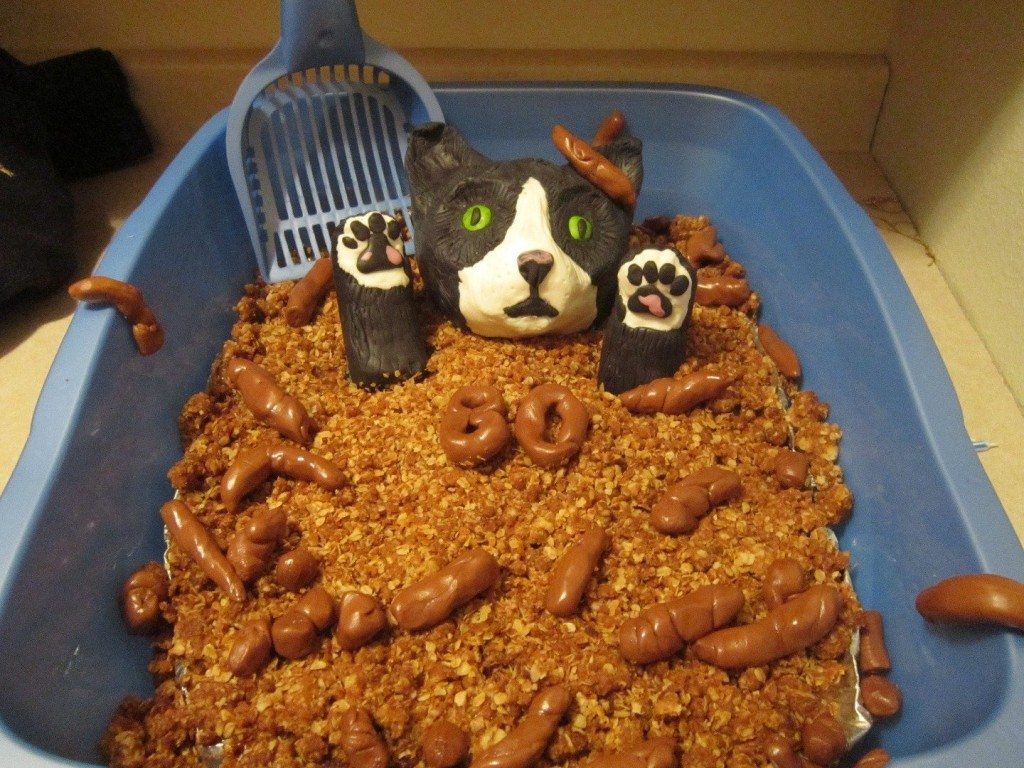 Still wondering why a baker would make a cake resembling inedible substances? Its bad enough that some bake human poo cakes, now this is animal poo. Who is willing to eat the cat and its poo?
15. Gory Wedding Cake
This is an extremely detailed cake, and it spells disaster for the couple who requested it. How sad, their heads will be chopped off soon after their wedding.
16. Stabbed Hyena
This cake looks horrifying. It threatens to eat anyone who is too afraid to eat it.
17. Shreky Cake
Everyone loves Shrek, but not when he is bleeding and sitting right on top of our favorite desert.
18. Baby Cake
This is gruesome.
19. Another Toilet Cake
There is definitely more than just blood in that toilet and anyone who can eat that should be investigated by the FBI.
20. The Game Cake
This looks like a cake requested by a gamer who loves Super Nintendo. Too bad, the baker only made a caricature of his/her handwork.
21. The Poop Cake
There is no reason to bake a cake that looks like poo. It doesn't matter how stinking old the recipient is, s/he would most likely be disgusted at the thought of eating poo.
22. Penis Cake
It should be seen as unethical to make cakes in form of reproductive parts – it is disturbing. To crown this work, the baker decided to use sperm to spell out "happy birthday." Who does that?
This Is Very Awful: What Was Found Inside This Banana Will Make You Abstain From Fruits
23. Another Baby Cake
No matter how interesting this cake might be in the mouth, it is guaranteed to give you uncomfortable chills.
24. The Killer Snowman
Any child would be afraid that this cake would eat them, rather than the other way round. A child would probably have nightmares after looking at this cake.
25. The Lost Lamb
This little lamb looks adorable but lost, although it is quite a mess and in a mess.
26. Dead Possum
Who orders a dead possum as a cake? Most probably the devil.
27. Poo Butt Cake
Enough of the poo, toilet and butt cakes. This might be appealing to the eyes but it is sure made of shit.
28. Wookie Cake
Not as bad as the dead possum.
 29. Vampire Cake
Far worse than the dead possum. This could be fun for vampire lovers though.
30. Skull Cake
This looks cool but creepy. This skull cake has some potential, but unless it's strictly for a Halloween party, it will shock even the most tolerable person in a normal birthday party.
31. Bunny Cake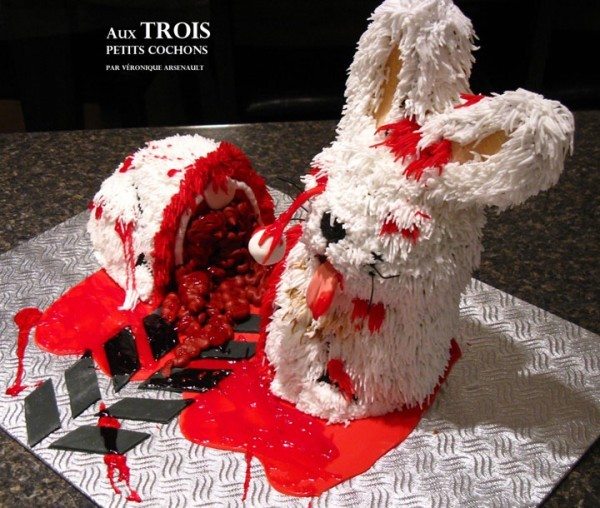 This cake is gross and confusing, who cuts such an adorable bunny?
 32. Rice Cake
This honestly looks like a mistake.
33. Cuckoo Cake
Its definitely for halloween
34. Clown Cake
Hope this clown did not scare away the recipient.
35. The Rectal Bleeding Cake
The colourful cake would have been perfect without the watery poo dripping all over. That makes it quite disturbing.
36.  Abdominal Surgery Cake
This surgery cake was made by a Birmingham cake artist, Annabel de Vetten. The cake is epic and has removable truffle intestines.
37. Lice Cake
That cake can actually get the lice to come back if they were not completely out of the door.
38. Confused Cake
This cake is really gross even though its not the grossest on this list. Maybe the aim was to teach children that piercings only belongs to the ears not the navel.
39. Melting Cake
That is definitely a witch if ever I've sen one. Eating this cake might just bewitch you, so might as well give it up.
40. Monster Cake
This bakers must have put in a whole lot of time to create this huge monster of a cake. It's scary enough and was really worth their time.