It was the Canadian Architect Arthur Erickson that once said: "Great buildings that move the spirit have always been rare. In every case they are unique, poetic, products of the heart". Buildings of nowadays no longer serve as a source of shelter only, they are also used as tourist attractions and commemoration of a remarkably important national events. Here we have picked 10 of the most bizarre buildings, a continuation of our 10 most weird buildings from around the world. Awesome, intriguing, inspiring or visually grating? What do you make of our selection of buildings below? We would like to know which particular ones that capture your imagination, feel free to share in your comments below.
1. Ferdinand Cheval Palace (France)
Ferdinand Cheval is a French Postman that decided to spend the last 33 years of his life building himself an intricate mausoleum, in the cemetery of Hauterives. His palace was recognised as one of the most popular examples of naive art architecture, a masterpiece that is now a cultural landmark and one of the popular tourist attractions in France, it was built with no architectural skills whatsoever.
2. The Ufo House (Sanjhih, Taiwan)
The Sanzhi UFO houses were a set of abandoned building projects in Sanzhi District, New Taipei City, Taiwan. The original plans for the building was to use it as a vacation resort marketed towards the US military officers coming from their East Asian postings, the buildings resembled Futuro houses, some examples of which can be found elsewhere in Taiwan.
3. Device to Root Out Evil (Vancouver, Canada)
"A country church is seen balancing on it's steeple, as if it had been lifted by a terrific force and brought to the site as a device or method of rooting out evil forces". This was done by Dennis Oppenheim, an American conceptual artist, performance artist, earth artist, sculptor and photographer
4. Banknote Building (Kaunas, Lithuania)
This was inaugurated in 2008 and is being used for offices (official name, Office Center 1000). It is a monumental building that  features over 4,000 tiles of enameled glass, all pieced together like a puzzle.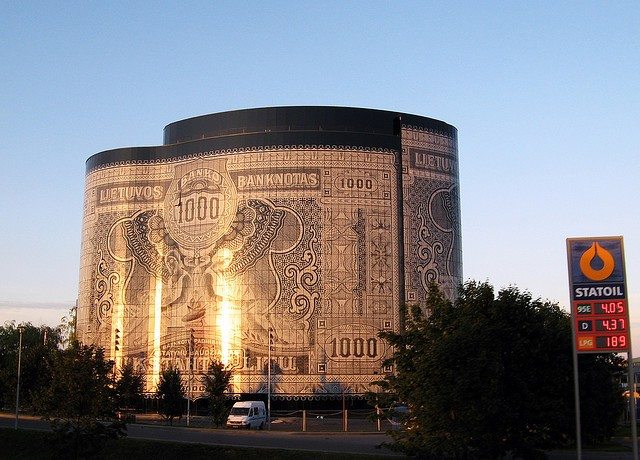 5. Mushroom House (Cincinnati, Ohio, USA)
This is also known as the TreeHouse, it is an ornately fanciful home built by architect Terry Brown in the Hyde Park neighborhood of Cincinnati, Ohio. "Last time I checked, this property was still for sale, not sure what the situation is now", the building is located at 3331 Erie Ave. in Hyde Park, the more than 1,200-square foot home was listed at $349,000
6. Bolwoningen ('s-Hertogenbosch, Netherlands)
These are the fifty white 'spaceships' shaped like giant golf balls that landed here at the beginning of the 1980s and have since served as housing for the ordinary humans of this city.
7. Scottish Parliament Building (Edinburgh)
The Scottish Parliament Building is the home of the Scottish Parliament at Holyrood, within the UNESCO World Heritage Site in central Edinburgh.
8. Klein Bottle House (Rye, Victoria, Australia)
This house is located on heavily ti-treed sand hills adjacent the ocean beach in Rye just two hours from Melbourne. It gives you the sense of arriving at a natural and built environment which was unique and in complete contrast to the owner's city home.
9. Cathedral of Brasilia (Brazil)
The Cathedral of Brasília "Metropolitan Cathedral of Our Lady Aparecida"  is the Roman Catholic cathedral based in Brasília, Brazil, and serves as the seat of the Archdiocese of Brasília. It was designed by Oscar Niemeyer, it's foundation was laid on On 12th September 1958 and was finally completed and dedicated on May 31, 1970. The cathedral is a hyperboloid structure constructed from 16 concrete columns, weighing 90 tons each.
10. Crazy Hotel (Bratislava, Slovakia)
This is considered to be one of the strangest hotels in the world. Unfortunately we don't have much information about the architect of this crazy building.
Recommended Further Reading 
10 of the World's Most Bizarre Buildings Part I