The world has come a very long way since its creation. The things that we are currently familiar with weren't the same in the past and most certainly wouldn't be remain the way they are in the nearest future. Judging by the dramatic change seen in just a few years ago from now, it does tell us that the future generation might wonder what we the present generation were thinking when they go through the images of what we consider as first class and normal at the moment. We bring you historical, shocking and unexpected photos dating back to some centuries ago and they certainly bring  up emotions of wonderment when we go through them. Glance below to see some rare old images that will change the way see the past.
Read Also: 10 Greatest Warriors in History
Check out the "Punt Gun" used for duck hunting. It was capable of killing 50 birds in one fell swoop. In the late 1860's it was banned.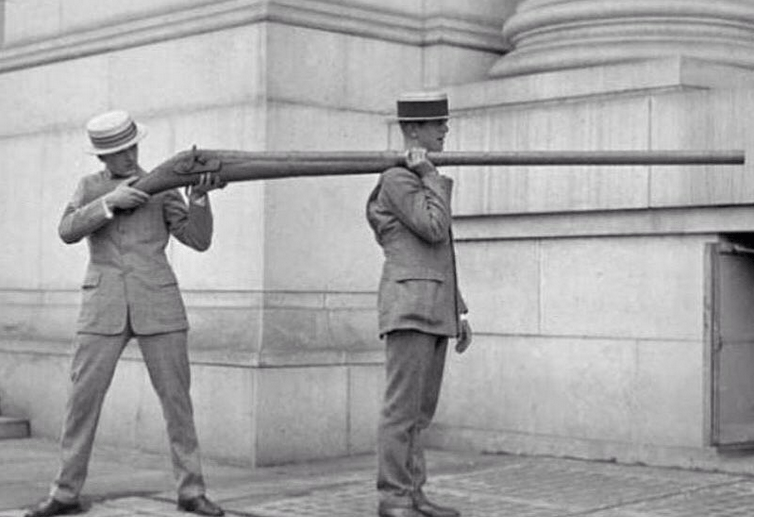 Fun Cycling
Tandem adult tricycles used to be a popular trend in the 1880's because they are more stable than tandem bicycles. The Columbia Tricycle Company claimed that they ensured "absolute freedom from danger of accident."
This photo captured a girl in the early 1900s at a gravesite. It wasn't until years later that the abnormality was noticed.
You Might Also Like: 7 Most Mysterious Crimes in American History
Cars in 1900
Annie Edison Taylor is the first person to survive going over Niagara Falls in a barrel in 1901
Annie Edison 63-year-old widow was an American adventurer who, on her 63rd birthday, October 24, 1901, became the first person to survive a trip over Niagara Falls in a barrel.
1903 World Record huge black sea bass caught by Edward Llewellen. It weighed 425 lbs. Allegedly, he brought it in alone.
Read Also: Top 10 Remarkable Events in US History
Annette Kellerman arrested for indecency
Annette Kellerman was an Australian professional swimmer, vaudeville star, film actress, writer, and business owner popular for promoting women's right to wear a fitted one-piece bathing suit, 1907. This was when women were expected to wear cumbersome dress and pantaloon combinations when swimming. She was arrested for indecency on Revere Beach, Massachusetts for wearing a fitted one-piece bathing suit.
A man testing a prototype football helmet [1912]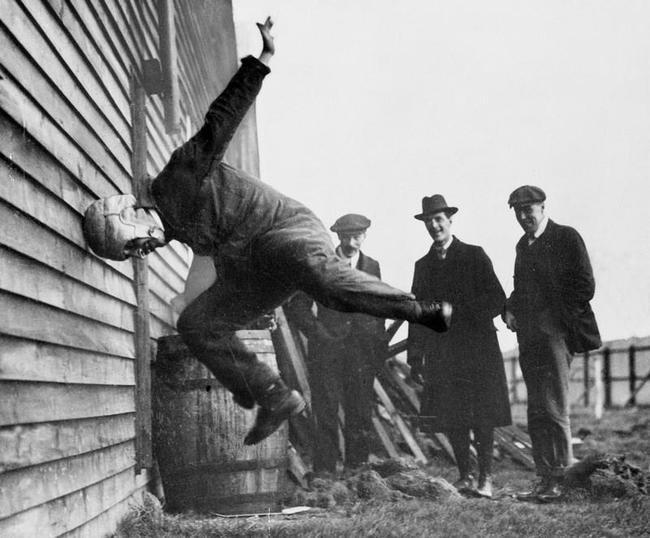 Turkish official teasing starved Armenian children by showing them bread during the Armenian Genocide of 1915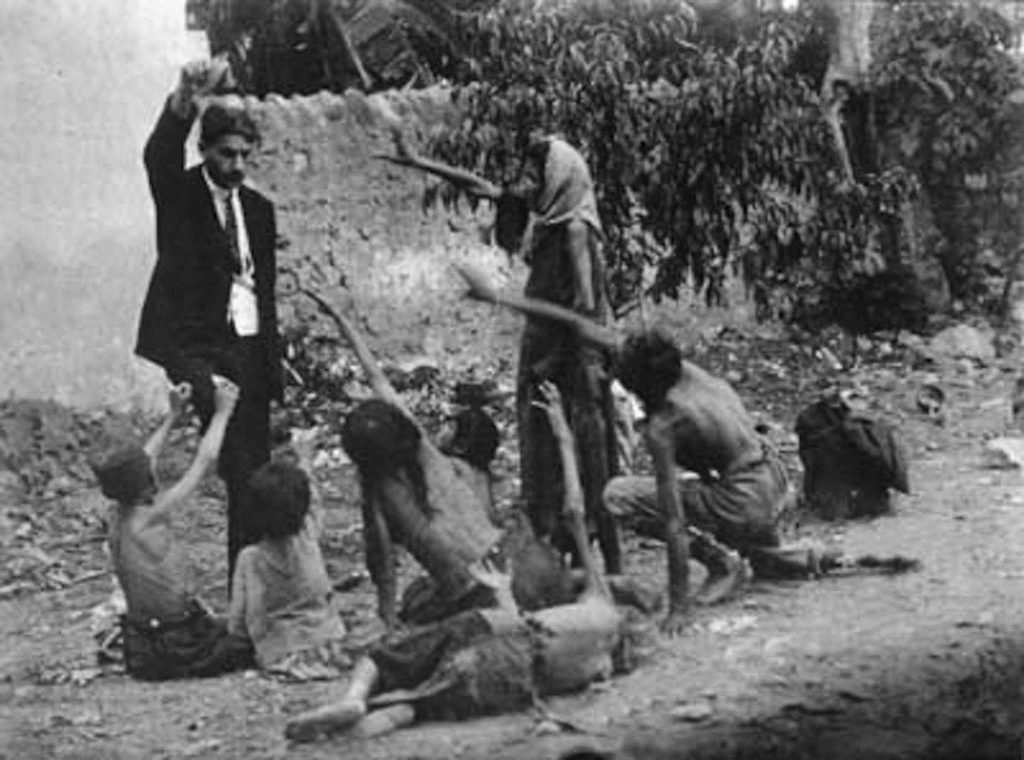 The Armenian Genocide also called the Armenian Holocaust or traditionally among Armenians, as the Great Crime was the Ottoman government's systematic extermination of its minority Armenian subjects from their historic homeland in the territory constituting the present-day Republic of Turkey. It happened during and after World War I and was implemented in two phases: the wholesale killing of the able-bodied male population through massacre and forced labor, and the deportation of women, children, the elderly and infirm on death marches to the Syrian Desert.
Read Also: Seven Oldest People Who Ever Lived
First Plastic Surgery Ever
Walter Yeo, a sailor wounded at the Battle of Jutland, is supposed as the first person to receive plastic surgery in 1917. Yeo's surgery not only repaired his face, but gave him new functioning eyelids too.
Bathing Suit Length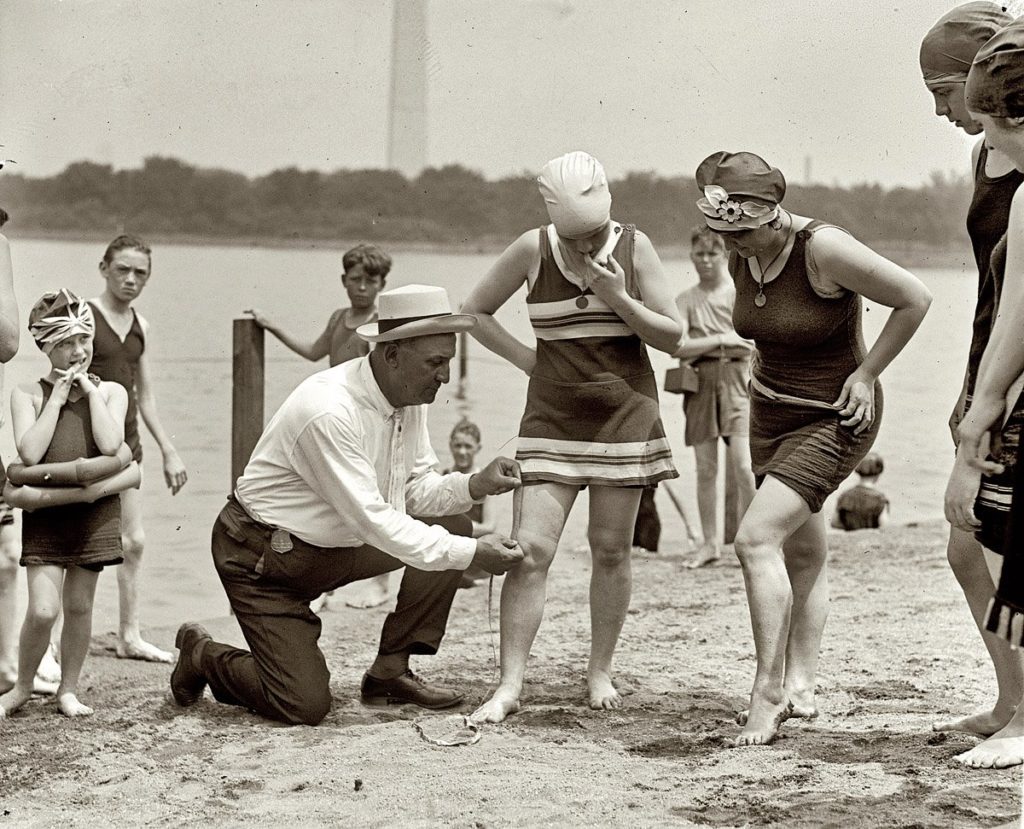 Back in the 1920's, beach patrols measured the length of women's swimsuits to make sure that they aren't too revealing.
Flood Of Alcohol
This is no flood — it's illegal alcohol being poured out a Detroit window during Prohibition (1920-1933). Detroit was the central place for smuggling liquor from Canada into the United States. When Michigan state police raided a Detroit restaurant suspected of serving liquor, they wound up arresting the Mayor, a Congressman and a local sheriff before flooding the illegal alcohol out of the window.
Read Also: Top 12 Richest Boxers in the World 2015
Trying out new bulletproof vests, 1923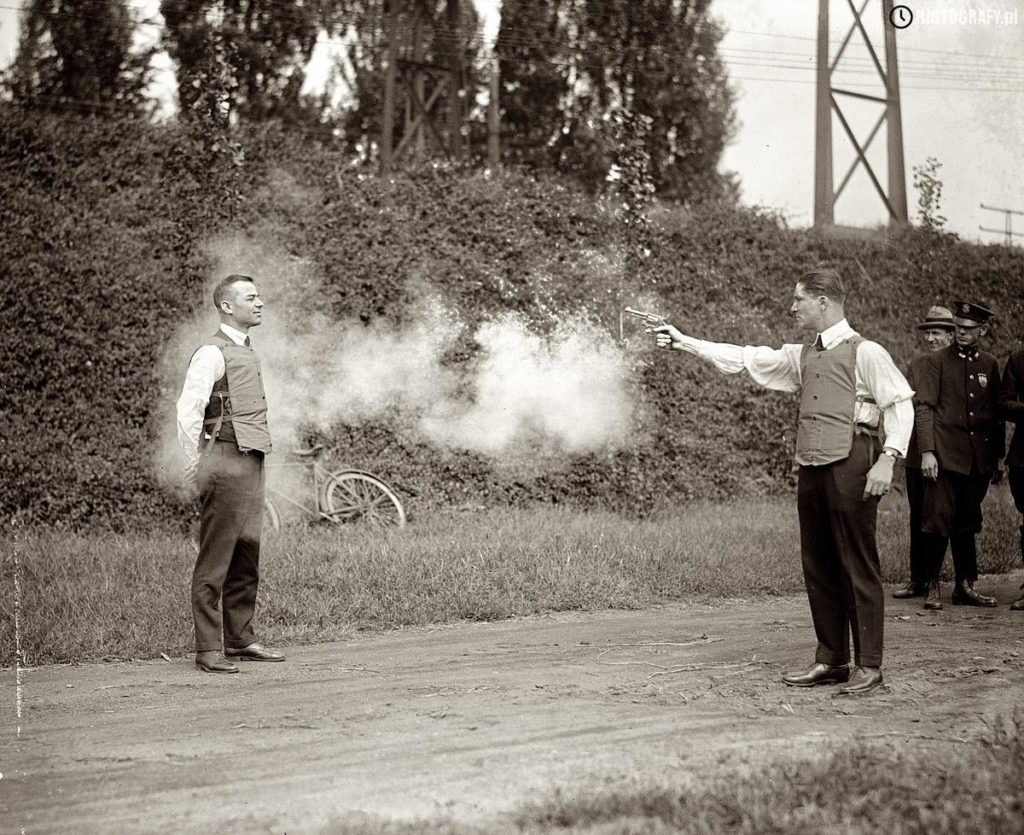 Baby Cage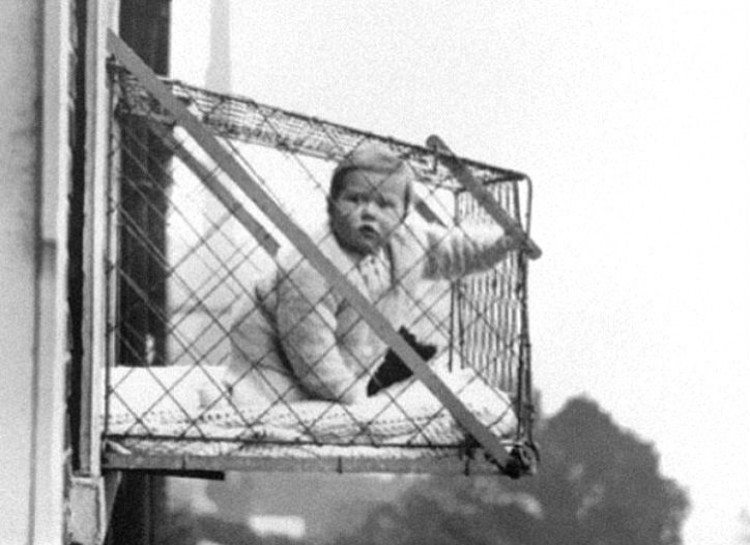 Here is a portable outdoor baby cage, designed in 1923 so that babies in the city could get fresh air and sun while their mothers did housework.
Hippo Drawn Cart -1924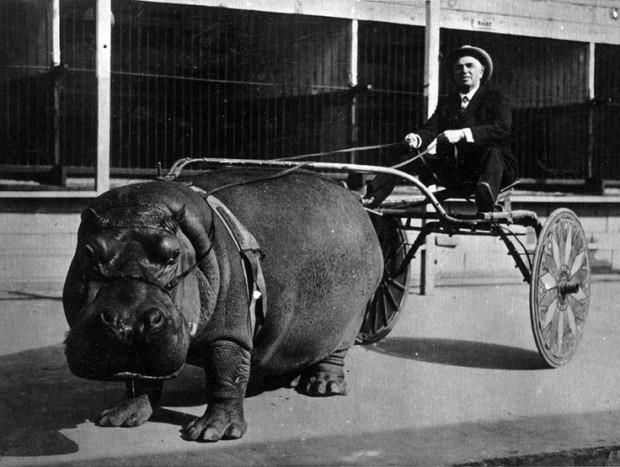 This Hippo was trained to pull a two-wheel cart in 1924.
The real Winnie the Pooh and Christopher Robin in 1927
Kalinin K-7
Kalinin K-7 was a giant experimental aircraft invented and tested in the Soviet Union in the early 1930s. It was of uncommon configuration with twin booms and wide underwing pods housing fixed landing gears and machine gun turrets.
Shooting practice for German soldiers in 1935.
The last ever public execution in the United States, 1936
Rainey Bethea (1909 – August 14, 1936) was the last person to be executed publicly in the United States. He was a black man who confessed to raping and murdering a 70-year-old white woman named Lischia Edwards. After being convicted of her rape, he was publicly hanged in Owensboro, Kentucky.
A man refusing to do the Nazi salute, 1936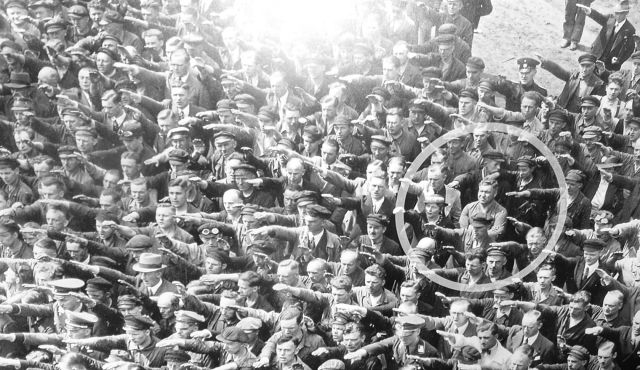 One brave man refrains from lifting his arm in the Nazi salute in Hitler's presence at a 1936 rally.
Babe Ruth knocking it out of the park in 1938.
Read Also: 10 Most Shameful Events in U.S. History
The inside of the Cathedral of Amiens during World War II.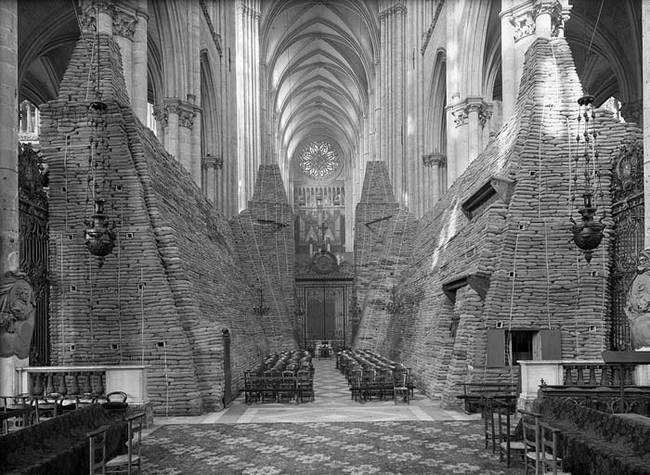 Gas-Proof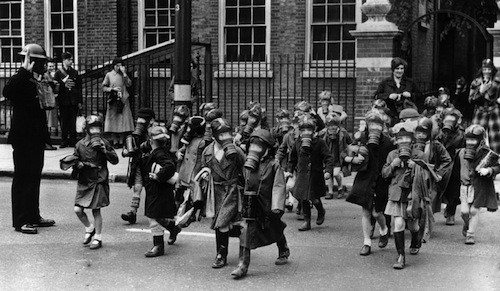 This gas-proof was sold in England on the eve of WWII. During the First World War, German forces used poison gas on Allied troops, Britons were afraid that Hitler might release them on civilian populations. Britons were well prepared in case of a chemical attack.
Read Also: Top 10 Most Famous Football (Soccer) Players in History
Morbid Advertisement for Atabrine anti-malaria drug during WWII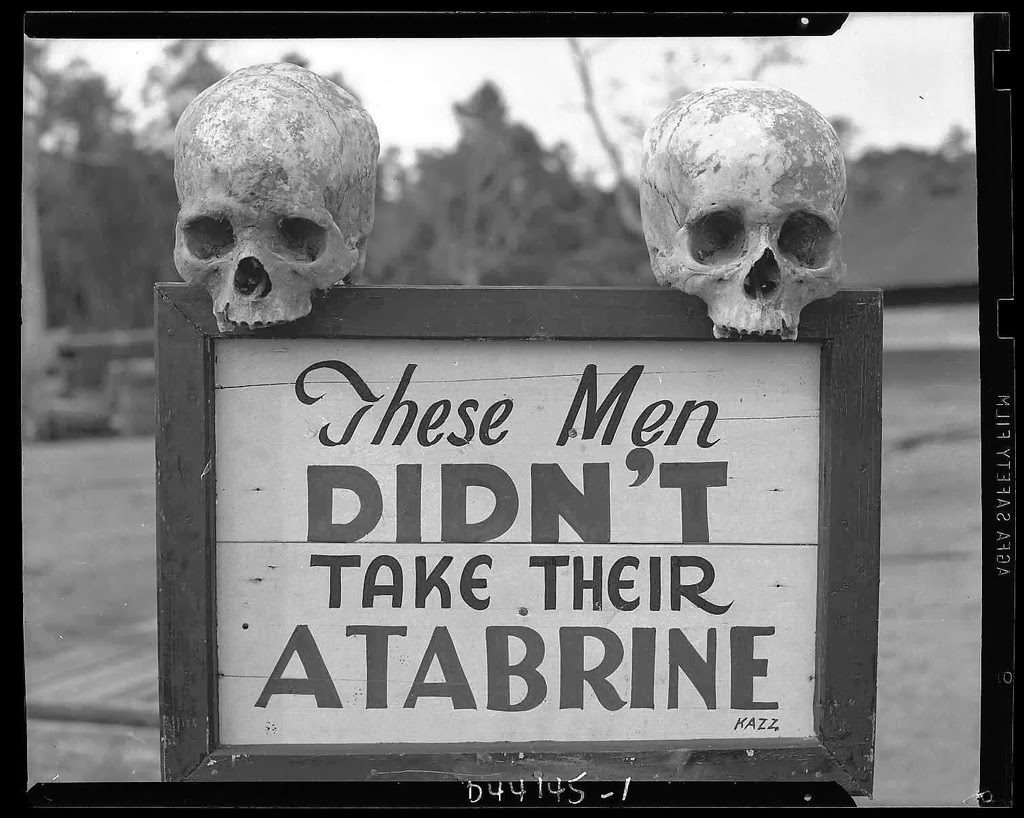 Atabrine was the first synthetic form of quinine used to battle malaria. The US military used the anti-malaria greatly in the South Pacific during WWII. This sign is close to a military hospital in New Guinea, where two-thirds of the troops were severally down with the disease.