Comedy Wildlife Photo Awards is a photography contest where animals are captured in unflattering and funny poses which are compared to pick the winner. The awards are the invention of two Tanzania-based photographers Tom Sullam and Paul Joynson-Hicks, who began the contest last year. This year, almost 3,000 people entered the contest organised by the group. And while sharp-quality photos can give a stronger boost to winning the contest, the competition has one unbreakable standard: be amusing.
According to Sullam, the humor scoring has an edge over photographic scoring. The two co-founders, along with a panel of judges, run the competition in partnership with Born Free, a global animal rights group backing anti-poaching efforts in Tanzania and around the world.
Here Are 17 Of This Year's And A Little of Last Year's Best Entries:
For one thing, this gorgeous golden eagle is not thinking about how to cram you down. Not at all
This chipmunk suddenly perceives there's too much in his life that's beyond him
Read Also: Top 10 Weird Myths About Animals
Laughing out Hard
Read Also: These 10 Animals Are Not Very Sure About Which Species They Belong To-They Are Pretty Confused
Beautiful one-and-a-half owls.
Read Also: 9 Deadliest Sea Animals You've Never Heard of
A model bird doing the catwalk better than you!
This field mouse has some skills. It can be in between a gap and wave at the same time without falling.
The baby elephant is trying out how to be a snail
Read Also: 10 People Who Aren't Afraid To Mingle With Deadly Animals
Consulting the gods? Very likely
These kissing monkeys are not ready to hold back their feelings.
Laughing at the kissing monkeys? Who knows ( Contested in 2015)
This well-behaved seal is saying "Hello."
Beautiful puffins taking things easy
This kangaroo is reaping the benefits of modern society. Basking in the comforts it has to offer
Read Also: 21 Most Intelligent Animals In The World
These squirrels seem restless without one another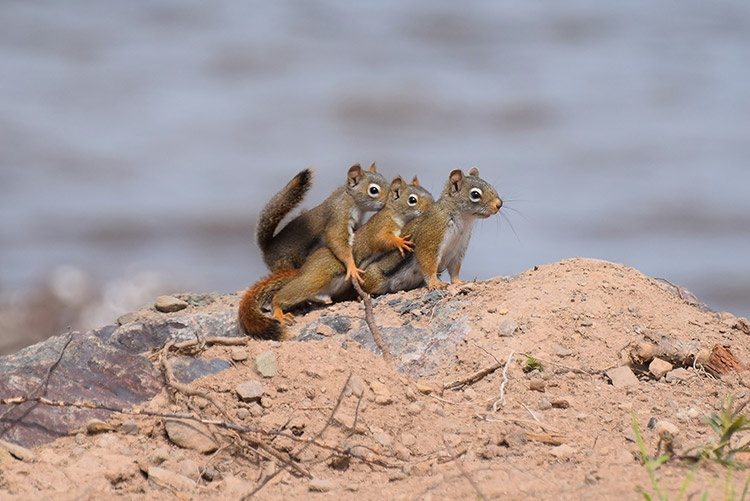 This strange couple  – a chipmunk and a toad – be catching feelings for each other.
Uniquely decorated wasp with a jewelry collection that is more sophisticated and extravagant than yours.
 This snowy owl is finding some inner peace.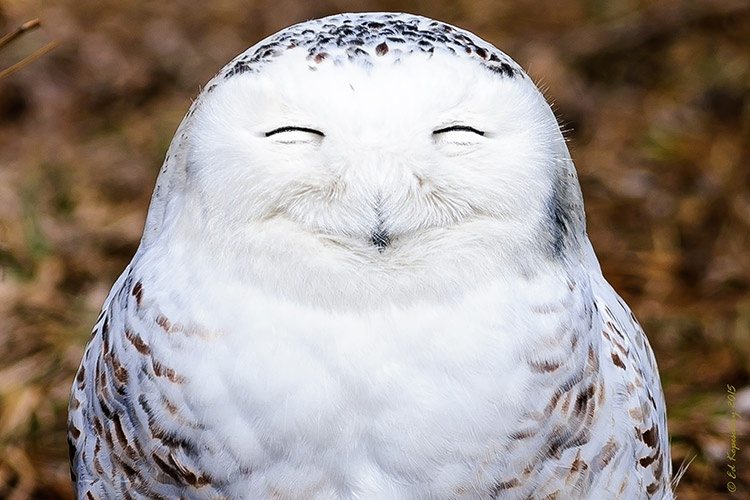 This soft looking monkey looks quite adorable and apparently ready to creep up on someone without being detected to carry out a brutal attack.
Here Are Some Photos From 2015 Competition
A hamster needs to be somewhere as soon it can. It would also like to make a stop to eat some nuts. Suddenly, it comes up with a creative means of dealing with them all at once. Clever rat! Well, this photo was caught on camera by photographer Julian Radd unexpectedly and it was the winner of the 2015 Comedy Wildlife Photo Awards.
Making  the dance move. This guy couldn't hold back at a song (Contested in 2015).
Look! It's coming to get me …….poor Hippo runs for its life. (Contested in 2015)
More loved-up monkeys not ready to fend off their feelings. ( Contested in 2015)
Cracking up. Probably mocking the monkeys. (Contested in 2015)
They all want to have a look and they are seriously  having a peek. Good enough, they are perfectly camouflaged as their perfectly-coloured feathers blend in with the bark of the tree. (Contested in 2015)
Sullam says he hopes the photos, while lighthearted, reinforce the importance of protecting these animals for those who see them.
"It's going to get the same impact," he said. "It's just not negative." The result will be announced on November 9, 2016.