Normally, looking directly at snakes always elicit a phobic anxiety disorder and with good reason; many of them are frankly scary, menacing and quite likely to cause harm to humans. But not all snakes are dangerous! In the interest of awareness, some are completely harmless. So if you have been ranking snakes as the worst kind of reptiles you are in for a serious surprise.
Although it's difficult for some to let go of connotations like, they are ornery, harmful, devilish, evil and what not that come along with these creatures, some still find them amazing. Of course, even grown men have been known to shrink in fear at the sight of even the smallest snake, and sometimes leave their daughters or kids to pick up the tiny little baby and dispose it in the garden…. I just hope am not referring to anybody's dad!
READ: 10 Interesting Things You Didn't Know About Elephants
Anyways, for those who suffer from ophidiophobia meaning the fear of snakes, I present to you some of the tiniest, most lovable, charming, pleasing, cute adorable little snakes that would have a good touch on your soft spot.
Yes they are supposed to be terrifying but they turned out being awesome. Have a look below:
Its face innocently says "hi I'm harmless, would be my friend please? Now that's touching
Aww! Cute hat…This hat really brightens him up doesn't it?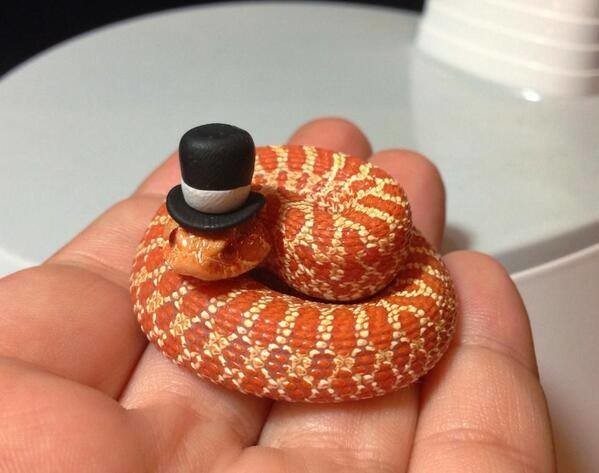 READ: See What Fishermen Caught This Octopus Doing
And he's got a mustache here….he just knows how to style up
This little tiny snake is so happy, I think he's singing
Cute hat….I am loving it
"Hi!"
See Also: Lion King Of The Jungle Torn To Pieces By Another Animal
What if Santa was really a cute and stunning tiny fellow that slithers down your chimney to get your kids their Christmas gifts? How beautiful!
Cute teeny tiny curious fellows! Their faces say, "I heard something…did you?
Aww… Such a gentleman, no wonder the flower cozied up to him
Could you please play me that song? I love it
She loves pink a lot….just see how she snuggled into the warm embrace of  this turtleneck.
And what if this adorable snake makes this face when asking you to use this cream she loves.
Now, let's us all welcome this tiny adorable fellow to the world
He thinks you are beautiful…says "wow! you are cute"
And he asks…Would she like me? Oh ! she is close, so close, so so close….*Clears throat* hi I'm snaky, pleased to meet you!
This one says….Hello, who is there? Come down let's chat please, I won't hurt you… you are tickling me
And who said snakes can't be awesome or easy to deal with? These snakes are simply splendid you know. They are beyond, alluring, cute, adorable. I do hope they have cured your phobia for snakes but if they didn't, perhaps nothing can do that job any better.
Wouldn't You Like To Have One As Pet? Tell Us What You Think In The comment Section Below: