Every living thing on earth is a creation of God. He created the plants, trees, animals, birds, etc. but made humans the 'superior' ones. But the question always remains, has our superiority been life-threatening to other living beings? Our environment is not simply about us. What about the animals we're crushing to make our survival easier? Do we really need to exterminate them from this world to lead our lives? Are we happy to suppose that our grandchildren may never be able to see an elephant except in a picture book?
Pet World: Top 7 Most Expensive Dogs Ever
With the global outrage over the killing of the Zimbabwean lion, Cecil, and the incidence of trophy hunting still under debate, we bring you 41 of the planet's most endangered animals species which may not be around for our children to see – unless on the internet and story books.
1. Magellanic Penguins
Magellanic Penguins are displaced by oil spills and warming ocean currents, forcing the birds to swim farther to find food. Last year hundreds of Magellanic penguins washed up on beaches around Rio de Janeiro, many emaciated or dead. Twelve out of the 17 penguin species are currently experiencing rapid population decline.
2. Okapi
Behold the giraffe-zebras that were first found by British explorers in the 1800s. Today, in some parts of Congo, only around 10,000 to 20,000 of them are left.
 Big Revelation: This Act May Look Stupid But It Is A Sign Of Something Serious In Your Pet
3. Amur Leopard
Poached for its beautiful, spotted fur, the Amur Leopard is possibly the rarest and most endangered big cat in the world. Found along the border areas between the Russian Far East and northeast China, this species also faces habitat destruction. Today, around 30 individual Amur leopards remain in the wild.
4. Irrawaddy Dolphins
These peculiar species of Dolphins are found in South and Southeast Asia. They're popularly known for their domed forehead and short-beak. Today, over-fishing has drastically reduced their count to as low as 77.
5. Gharials
I remember visiting zoos to get a glimpse of these. Found mainly in the Indian subcontinent, this crocodile variety is yet another addition to the endangered species list.
Read Also: 10 Unusual Tiger Facts
6. Pacific Pocket Mouse
These pocket-fitting mice, found in California, are one of the tiniest rodent species of the world. They're now close to extinction because of habitat destruction and fragmentation.
7. Spider Monkeys
What these monkeys called home in the 1900s is today no longer accommodating their species. These monkeys need large forests to survive in; however, habitat destruction and deforestation in the prime areas of Central America, Costa Rica, Panama, El Salvador and Belize, has left them close to extinction.
8. Coconut Crabs
Also known as robber crabs or palm thieves, these crabs climb coconut trees to pick coconuts, crush them with their fancy large claws and then, feed on them. They're the largest land-living arthropods weighing up to 9 kgs. Considered a delicacy, they're now being eaten to extinction.
Read Also: These 10 Animals Are Not Very Sure About Which Species They Belong To-They Are Pretty Confused
9. Saola
This Asian Biocorn is rarely seen in the wild, and none live in captivity. The current population is estimated to be about a few dozen. Saolas are hunted to supply growing demands in China, Vietnam and Laos. Habitat loss and reduced genetic diversity also threaten this species' already dwindling population.
10. Dupongo
One of the four living species of sea-cows, Dupongos are found in the Pacific Ocean to the east coast of Africa. They're constantly being hunted for meat and oil, and are now endangered.
11. Bighorn Sheep
One of the two species of mountain sheep in North America, mainly poached for their unique look and horns. There horns alone can weigh up to 14 kgs. Due to over-hunting and disease-inducing of European livestock that was introduced in the 1900s, their initial population of 2 million has come down to 70,000.
You Might Like To Watch This: Unbelievable Video of Young Elephant Driving Away 14 Lions
12. Spider Gooty
These bright-blue spiders are only found in small 60-square-miles forest areas of India. They're so pretty that people spend up to $500 just to have them in their collections. No wonder they're now close to extinction.
13. Philippine Eagle
Also known as the monkey-eating eagle, the Philippine eagle is the national bird of the Philippines. Due to deforestation and illegal logging activity the eagle is considered to be critically endangered as its population is down to 500.
14. Gray Wolves
While the Gray Wolves have been under the protection of Endangered Species Act in the USA, they're still not all that safe. Found mainly in the Great Lakes, Northern Rockies and Southwestern United States, these wolves have been battling to survive for a very long time. Let's hope they win this one.
15. Markhor
Guess how many of Pakistan's majestic national animal is left? Only a mere 2500! Its beauty and high status has made it the perfect hunter-prey and thus, endangered.
16. Tigers
Four subspecies of tiger – the Caspian, Javan, Balinese, and South China tigers have already gone extinct due to habitat loss and relentless hunting by humans. Five subspecies remain: the Amur or Siberian, Bengal, Indochinese, Malayan and the Sumatran tiger. All of these tigers live in parts of Asia, and all are hanging on by a thread in the wild, with fewer than 3,000 remaining in total.
17. Proboscis Monkey
Famous for its peculiar nose and enormous belly, this primate is only found in Borneo. Also nicknamed 'The Dutch Monkey', its population has decreased by a whopping 50% in the last 40 years.
18. Langur Chato
These 'elf-like' primates are found in Asia, at around 13,000 ft above ground level. As it is, they're rarely seen or found, but now, thanks to us, they have been added to the endangered species list due to consistent deforestation.
19. Giant Armadillo
Hunted for their meat and protein value, the Giant Armadillos are a threatened set. They're not locally found, yet the last three decades have seen around 30 to 50% decline in their population. What's worse? These are being captured and traded in the black market, and thus, mostly die in captivity and transportation.
20. Javan Rhinoceros
The Javan Rhinoceros is the most endangered of the world's five rhinoceros species, with an estimated 40-60 animals remaining on the western tip of the Island of Java (Indonesia) in Ujung Kulon National Park. The water- and swamp-loving Javan rhinoceros has been hunted to near-extinction for its horn.
21. Loris Elusive
With big brown eyes and night-vision exclusivity, Loris Elusive has been a victim of many superstitions such as the fact that their flesh could cure leprosy. Due to their over exploitation between 1939-2002, they'd even disappeared entirely. Their presence is still very scarce. An extremely rare animal to lose out on.
22. Hooded Seals
Known for their unique nasal cavity that inflates and deflates every time they swim, the hooded seals are only found in some areas of the North Atlantic. Heavily hunted, these are now on the brink of annihilation.
23. Kakapo
The fattest and the only ground-dwelling parrot in the world, the Kakapo, come from New Zealand. Also known as the night parrot or owl parrot, they have been preys to cats mainly and today, are only about 128 in number, located in certain predator free zones of New Zealand.
24. Olm
The Olm is one of the few completely aquatic amphibians; it eats, sleeps, and breeds underwater. These are mainly found in the caves of Central and Southeastern Europe. Due to heavy water pollution, they're now decreasing in number.
25. Leatherback Turtles
The largest sea turtle species and one of the most migratory, the Leatherback turtle population has severely declined in recent years due to over-harvesting, fisheries bycatch, plastic ingestion, egg poaching, habitat loss and expansion of coastal development that continues to disturb and destroy turtle's nesting beaches.
26. Chinchilla
You'd find these in pet stores, but did you know that they've been reduced by almost 90% in the last 20 years? One of the most home-friendly rodent species are now endangered because of consistent fur-trade across South America.
27. Vaquita
The direct translation of its name from Spanish means little cow and its habitat is limited to the northern parts of the Gulf of California. There are only 300 of them left in the wild.
28. Puerto Rican Broad Winged Hawk
Only a 100 of this hot specie are left. Very rare to spot and magnificent to witness, these have been hunted enormously over the years.
29. Mediterranean Monk Seal
Related to the Hawaiian monk seal, the main difference between the two is their choice of habitat with the Mediterranean monk seal living in the Mediterranean. This specie is much closer to extinction, with only about 500 seals accounted for.
30. Saiga Antelope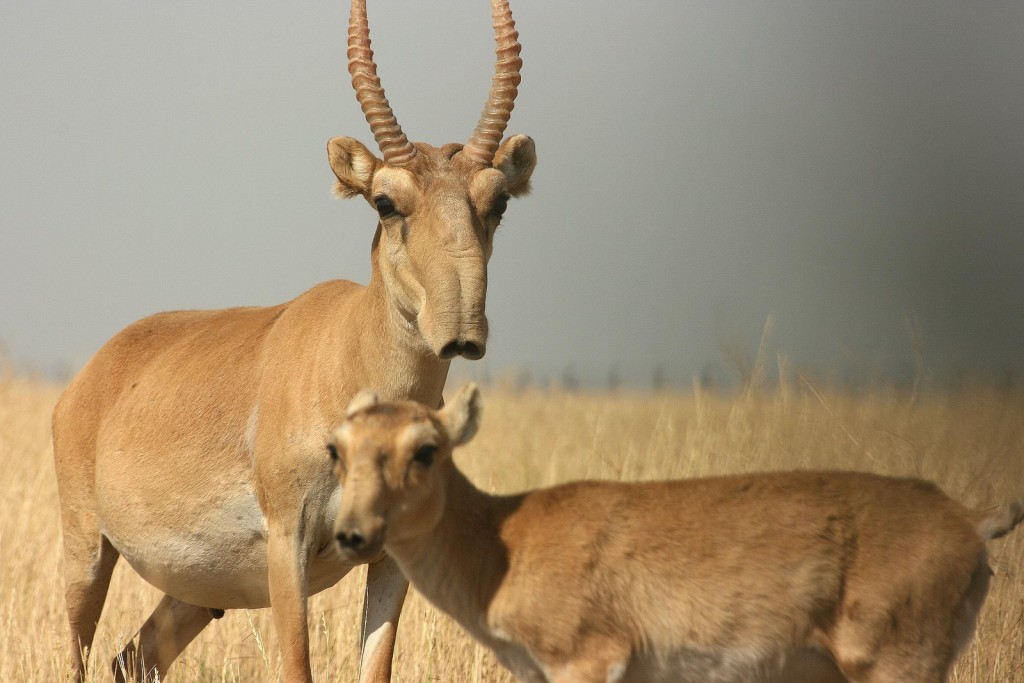 They might look alien-like but their nose helps filter out the dust raised by flocks in migration. They're found primarily in Eurasian steppes but are now critically less in number because of hunting and habitat loss.
31. Bulmer's Fruit Bats
These bat-subspecies were healthy in number in the 1970s, in New Guinea. But, due to habitat destruction and hunting, are now almost extinct.
32. Black Footed Ferrets
These are one of the most critically endangered species of America. Viewed as pests by humans, they majorly feed on prairie dogs, which equally has a significantly reduced population since the 1900s. In fact, these ferrets had even disappeared for a while during the 1970s. However, certain breeding programs reintroduced them and they are now being protected.
33. Black Rhinoceros
One of the oldest groups of mammals, just about 4,500 of this species are left in the world. During colonial times, black rhinos were killed daily for their prized horns, food or just for sport. Sadly, even the most fervent conservation efforts are being hampered by habitat change and increase in poaching.
34. Axolotl
Also known as the Mexican Salamander, these cute little amphibians mainly inhabit lakes of Central America. In 2010, they were added to the endangered species list and as at 2013, it was said that none are to be found in the wild.
35. Grevy's Zebra
This African beauty is the largest of the Zebra species but was regarded endangered in 1979. It is a clear victim of habitat fragmentation and agricultural livestock overgrazing.
36. Mountain Gorillas
Mountain gorillas are found in the Virunga Mountains that border Uganda, Rwanda, and the Democratic Republic of Congo, and in the Bwindi Impenetrable National Park in Uganda. Poaching, destruction of habitat, disease, and charcoal production destroyed the gorilla's habitat and has left around 880 of the specie struggling to survive.
37. Ocelot
Twice the size of a domestic cat, these glaring beauties are found in Central and North America. Popular for their beautifully dappled coat, they're poached heavily and are gravely threatened.
38. Hyacinth Macaws
The Hyacinth Macaw is a parrot native to central and eastern South America. With a length of about 100 cm it is longer than any other species of parrot. Unfortunately, only 3000 of these birds in blue exist today. Illegal trapping, habitat loss and hunting has led to this.
39. Quokkas
These gullible marsupials belong to the Kangaroo family but look like mice. They are mainly poached by foxes and dingos, who've been introduced to their habitat by humans and are non-natives to Australia.
40. Tree Kangaroo
Only one percent of these amazing marsupials are alive today. They're now found only in some areas of New Guinea and Queensland. Again, a victim of hunting and habitat loss.
41. Bearded Vultures
Found mostly in the Everest, the Himalayas and other mountainous regions of Asia and Europe, they were seen as a threat to lambs and children. As of today, based on a WWF report, only 10,000 of these exist.