Floyd Mayweather Jr is one of the greatest boxing legends the world has ever known. His great fighting skills and resilience kept him above his opponents and he remained unbeaten throughout his professional career; thus, winning championships across the five weight divisions viz – Lightweight, Light Middleweight, Welterweight, Light Welterweight, and Super Welterweight.
Mayweather has remained the number one pound for pound champion and the best defensive boxer in history. In addition, he is a six-time Best Fighter ESPY Award recipient, three-time Boxing Writers Association of America Fighter of the Year, and two-time The Ring Magazine's Fighter of the Year winner.
Floyd Mayweather's Biography
Born in Grand Rapids, Michigan on February 24, 1977, his birth name is Floyd Joy Sinclair. He came from a lineage of stars; his father is a former welterweight fighter Floyd Mayweather Sr. while his Uncles Jeff Mayweather and Roger Mayweather were IBO super featherweight and WBA super-feather champions respectively. He started boxing at the age of seven. During his amateur career, he won the national Golden Gloves in 1993, 1994, and 1996 respectively. He also won the bronze medal at the 1996 Olympics.
Starting his professional career in 1996, Mayweather recorded a seven-year winning streak which helped him to move higher in the weight classes. Defeating Genaro Hernandez, the star clinched the WBC super featherweight championship title in 1998. He won the WBC lightweight championship title in 2002 and in 2005; he won several welterweight titles including the IBF, WBC, IBA, and IBO welterweight championship titles. Two years later, Mayweather triumphed over Oscar De La Hoya to win the WBC super welterweight championship.
Throughout his 21-year professional career, Mayweather recorded a total of 50 professional fights out of which he won all. He retired in 2017 after the big fight against Conor McGregor. Mayweather triumphed over McGregor to win the fight in the 10th round with a record of 50 – 0. He has fought other big names including Victor Ortiz, Robert Guerrero, Canelo Alvarez, Marcos Maidana, Andre Berto, and Manny Pacquiao, among others.
Who is His Wife, Girlfriend?
While Floyd Mayweather remained unbeaten throughout his career, he is not so lucky in his love life. If there is one thing as popular as his boxing career, that would be his relationship timeline. The superstar has never been married; nevertheless, he has been in several relationships and has been engaged at some point but never made it to the altar. He also has a history of domestic abuse and women battery.
His first relationship was with his high school sweetheart named Josie Harris, an American actress and entrepreneur, best known for her appearance in movies such as Wives Confidential, Exit 38, and Starter Wives. Josie and Floyd had an off-and-on relationship from 1993 to 2007. They got engaged in 2005 and later called it off following some irreconcilable differences. Harris later wrote a tell it all book narrating her experiences with the boxing champ.
When he was with Harris, Mayweather was also having a fling with Mellissa Brim, an American entrepreneur. The duo met in 1998 at Rio Hotel and Casino where Brim was working at the time. Their secret romance was captured in Harris book; she caught them doing it on several occasions. Although it wasn't all rosy for Brim, she had her fair share of Mayweather's abusive personality and they parted ways in 2012.
Mayweather also had a relationship with a famous actress named Shantel Jackson who is known for her appearance on television series such as Nellyville and Freelancers. Apparently, they have been dating since 2006 but their relationship saw the light of the day after he broke up with Brim. Jackson was Mayweather's second wife to be; nevertheless, she left him since she could not deal with his numerous abuse and a long list of side chicks. Jackson is currently dating the famous musician Nelly.
His latest relationship was with former TOWIE star Abi Clarke who is popular as a result of her appearance in the television series titled The Only Way Is Essex (TOWIE). They first met in Los Angeles in 2016 while she was on girl's trip. After the trip, the duo started their relationship which became serious after a while. Mayweather has reportedly introduced Clarke to his family. According to Dailymail, the lovebirds went their separate ways in 2017.
His Daughters and Sons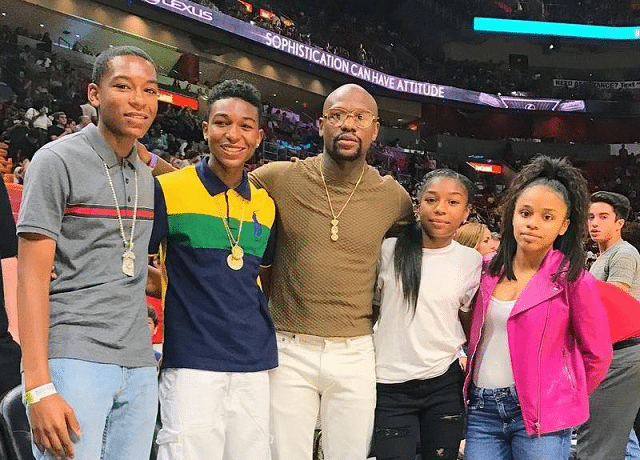 While Mayweather was dating Josie Harries, the pair had three kids; two sons Koraun born in January 2000 and Zion Mayweather born in March 2001 as well as a daughter Jirah Mayweather who was born in June 2004. His second relationship with Melissa Brim gave him another child, a daughter named Iyanna Mayweather. She was born in May 2000, seemingly two months after Koraun was born. Despite his tough childhood experiences, Floyd Mayweather is doing his best to be the best dad to his children.
Check Out: Lebron James Wife (Savannah Brinson), Kids, Mom, Dad, How Tall is He?
His Height, Weight, and Body Measurements
Floyd Mayweather wasn't the tallest in the ring but he remained unbeaten throughout his career. He is not the shortest either, he stands at a height of 5 feet 8 inches and other celebrities such as Eminem and Kanye West equally share the same height. He weighs 68 kg (151 lbs) and has wonderful body measurements (chest-waist-biceps) of 40-31-14.5.