We can never see too much of Julia Louis-Dreyfus, the multi-talented American comedian has been in the spotlight for over two decades, thanks to her excellent acting prowess. Julia got her breakthrough in 1982 following her breakout role in the late-night comedy series titled Saturday Night Live. Since then, she has continued to soar higher in her career; thus, appearing in several movies and television series.
Julia isn't just a comedian; she is also a proficient actress as well as a producer and has received several accolades for her brilliant performances. Interestingly, she has been active in the American entertainment industry for over three decades and is regarded as one of the most successful actresses in America.
Julia Louis-Dreyfus' Bio
Born Julia Scarlett Elizabeth Louis-Dreyfus to American mother Judith and French father Louis Dreyfus on January 13, 1961, Julia spent her early years in New York City. Her parents were divorced just one year after she was born and by the time she was eight years old, her mother moved with her to Washington. She was raised by her mother and her stepfather Thompson Bowles. During her childhood, she attended Holton-Arms School situated in Bethesda, Maryland after which she enrolled at Northwestern University where she graduated with a degree in theater in 1982.
Upon graduation, Julia began her training as a comedian at the Chicago's famous comedy enterprise called The Second City. Following an impressive performance at the 50th anniversary of The Practical Theatre Company, she was hired to feature in the NBC comedy series titled Saturday Night Live from 1982 to 1985. At the time she was the youngest female cast of the show and she appeared alongside Billy Crystal and Eddie Murphy. She also met Larry David, who later co-created her feature series titled Seinfeld.
Furthermore, the fast-rising star also made her acting debut, appearing in three films including Troll, Soul Man, and Hannah and Her Sisters in 1986. She played the role of Susan White in the series titled Family Ties in 1988 and later on, Julia joined the cast of the American sitcom Seinfeld, portraying Elaine Benes from 1990 to 1998. She appeared in Curb Your Enthusiasm in 2000. Her other television series include Watching Ellie (2002), Arrested Development (2004), and The New Adventures of Old Christine (from 2006 to 2010). She joined the cast of the American satire comedy series titled Veep in 2012 and has been portraying Selina Catherine Meyer to date.
Is Julia Louis-Dreyfus Getting Hotter with Age?
A mere look at Julia Louis-Dreyfus would show how stunning the amazing actress looks even at the age of 57. While getting older in the eyes of the public could be a sort of bitter-sweet experience for most celebrities; Julia Louis-Dreyfus sure does have secrets that have kept her ever young and elegant. The amazing actress attributes her forever young looks as making scientific use of makeups.
Although not many people know this, applying huge foundation and other makeups could lead to rapid aging. Having that in mind, the star actress has always kept her makeups as light as possible. Additionally, Karen Kawahara has been her all-time makeup artist for over two decades. As you can see, she has done a great job and surely deserves some accolades.
Family: Husband and Son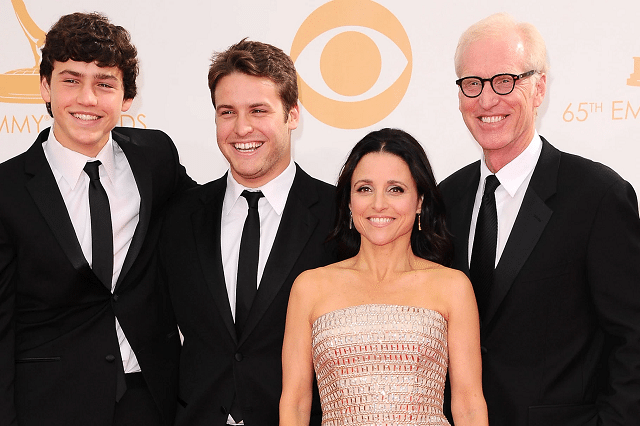 Julia's parents, Judith and Louis-Dreyfus split just one year after her birth and they both remarried. When she was eight, Julia and her mother moved to Washington D.C. where she (her mother) got married to Thompson Bowles, the then-dean of the George Washington University Medical School. She has two-half sisters from her mother's second marriage which include Lauren Bowles, an American actress with whom she appeared in Veep and Watching Ellie. Similarly, Julia also has two stepsisters from her father's second marriage.
In addition to her blossoming acting career, Julia also has an amazing love life. She got hitched to the Saturday Night Live Comedian Brad Hall, whom she met while they were attending Northwestern University. The duo had a blissful relationship which metamorphosed into a perfect marital union after for some time.
Her husband, Brad Hall is an award-winning American writer, actor, comedian, television host, and director; best known for his appearances on the Saturday Night Live News. He is also notable for being the creator of the television sitcoms such as Watching Ellie and The Single Guy. Brad received a Golden Globe Award and a Primetime Emmy Award nomination following his excellent performance as the writer, producer, and director of the movie titled Brooklyn Bridge. He has appeared as an actor on blockbuster movies including Troll, Limit Up, Curb Your Enthusiasm, Parks and Creation, and lots more.
See Also: What You Should Know About Olivia Black, The Pawn Stars Actress
Julia Louis-Dreyfus and Brad Hall exchanged marital vows in a lavish wedding held in 1987. Their wedding was attended by close friends and family members. Soon after their wedding, they welcomed their first child a son named Henry Hall in 1992 and later on, they welcomed another son named Charles in 1997.
Her younger son, Charles is a college basketball player currently plays for the Northwestern University. Without a doubt, Julia and Brad's marriage is one of the most successful Hollywood marriages. They currently reside in Los Angeles and have been together for over three decades.