Kim Kardashian was attacked in Paris at 2.30am on Monday, just hours after the selfie queen wore her £3.5million engagement ring given to her by rapper husband Kanye West, for only the second time on Snapchat.
Though a lot of mysteries surround who actually sold Kim out before the raid or how the armed gang was able to enter into her apartment, police are doing their best to get ahold of those involved.
While we wait in hopes that she will get back all she has lost, here is everything that went on in Paris
Social Media Presence Has A hand In The Robbery
Police suggest that social media visibility encouraged the TV star's recent robbery in Paris. The authorities also suspect the robbery at Hotel de Pourtalès may have been an inside job.
Perhaps one of the platform's biggest star, Kim has a serious social media presence with her fans. The platform has been crucially relevant to her brand and she posts massively on Twitter, Instagram and Snapchat. The star has about 84 million followers on Instagram and another 48 million on Twitter.
She flaunts her blings and nearly everything about her life, family and loved ones on social media. Only days before she was robbed, Kim shared a picture of her massive engagement ring at a diamond-encrusted grill on Instagram. She was also posting much of what she was doing including her location at Paris fashion shows leading up to the robbery. In fact, she tweets just about everything.
Read Also: Trump Or Hillary: Kim Kardashian Reveals The Presidential Candidate She Stands With
How The Robbers Got In?
A gang of five men disguised as policemen held Kim at gunpoint after they gained access to a private apartment she was staying in and robbed her early Monday.
It is however still not clear how the gang got into the apartment even when the armoured door was locked from the inside. Sources with the knowledge of the investigation said police think the five men could have tricked their way into the apartment.  Same sources suggest Kim would never open the door in the middle of the night in these circumstances, so who did?
Aside the diamond ring, the robbers also stripped Kardashian West of her smartphones and $10 million worth of jewelry. The massive rock is believed to be a gift from her husband, rapper Kanye West.
What Happened During The Robbery:
The four gunmen tied up Kardashian in a bath tub with zip ties and used tape across her mouth as she was screaming too loud. Reports also said that the TV star thought the robbers would certainly get her killed or rape her. But, thankfully, she came out unhurt. She pleaded with the thieves to spare her life, shouting that she's got children at home. After boudning her up and dumping her in the bath tub, the door of the bathroom was shut and the robbers made out with a jewellery box worth £5.24 million and a ring worth £3.5 million. There are conflicting reports as to who and what actually went down at the time.
However, multiple sources say her stylist and best friend Simone Harouche was next door to her during the raid. Simone is said to have hidden in the bathroom while other reports claim she texted Kim's bodyguard Pascal Duvier after hearing noises. Others allege she contacted the bodyguard after she heard Kim scream from the balcony.
Read Also: 8 Celebrity Homes You Can Pick Up Right Now
Caught On CCTV
The incident is allegedly caught on CCTV in a 'million-to-one' image after a camera facing a mirror reflected their getaway. This is contrary to reports that the thieves left without being caught on footage. The gunmen were all masked with ski masks but police seized the footage and are using it to track down the suspects. The film reportedly shows the gunmen sneaking past a sleeping guard and  running off on push bikes. Additionally, a ground-level camera also captured the five robbers making their way through the back door and into an office block behind Hotel de Pourtales.
Karl On The Kardashian Robbery
Fashion icon Karl Lagerfeld slammed Kim for showcasing her wealth on social media platform. This came a day after the star was robbed of £8.5million worth of jewellery at gunpoint in Paris. Karl thinks she shouldn't be shocked since people who saw her display her wealth online only wanted to share with her.
Lagerfeld had written Kardashian a note on Monday saying: 'Dearest Kim, we are all with you', adding that Kim should have gone to a hotel where nobody can come close knowing she is famous and shares her fortunes on the internet. The outspoken German said he is yet to understand why she was left in a hotel without any security.
The 83-year old designer and photographer added that it's a bad image for the city yet again.
Read Also: 12 Celebrities Whose Weight Transformed Badly – Then Vs Now
Where Is Kim Now:
The multi-millionaire mother of two gave a statement to the police and then flew back to the US in a private jet.
Stylist Harouche, on the other hand, left Paris immediately for Los Angeles to unite with her real estate husband Marc Bretter, son Dashiel, and their daughter, Azlan.
Kim, 35, had been in Paris for fashion week, where she was a front row guest at Balenciaga and Givenchy show on Sunday.
Kanye's Reaction After News Of Wife's Robbery
Kardashian's husband, rapper West was on stage when the news of his wife's attack came to him and as you might expect, the rapper ended the show halfway and walked off the stage. Before leaving the stage, he told the merrymakers at the Meadows Music and Arts Festival in New York; 'I'm sorry, family emergency, I have to stop the show.'
Kim's Bodyguard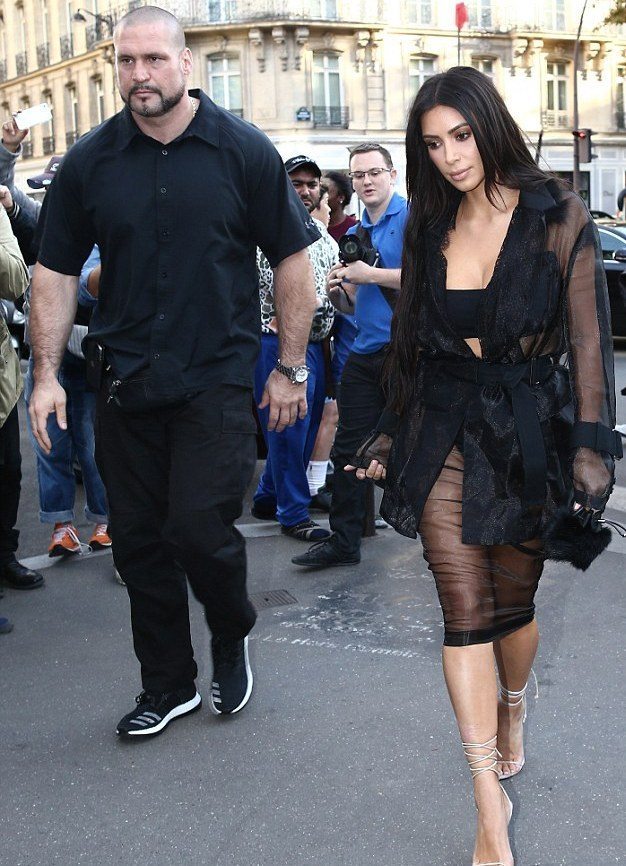 Kim's German bodyguard Duvier has been criticised severally for leaving the star all alone at the time of the attack. Duvier was allegedly out with Kim's sisters when Kim was attacked. He was at Arc nightclub in Paris with Kourtney and Kendall Kardashian. Before he could get to the scene, the five robbers had already escaped on bikes.
The robbery comes only days after Kim heaped praises on Duvier after the rugby pinned down a notorious celebrity prankster who tried to grab Kim's bum as she walked into a restaurant.
Just hours before the raid she shared a photograph of herself on Twitter, with Duvier in the background, captioned: 'This guy is always in my shot!' Kim has been silent since the robbery likewise most of her family members. Duvier replaced Steve Stanulis who was sacked by Kanye for allegedly flirting with Kim.
What Kim's Ex-Bodyguard Had To Say:
Steve Stanulis who used to guard Kim until he got fired in May this year after Kanye West reportedly accused him of flirting with his wife thinks karma may have been responsible for the attack. He reveals that Kim and Kanye hardly respect security and its importance. He also said that the two sometimes leave on their own without their security team.
Now Steve Stanulis, 42, has offered his opinion about the horrible attack which the reality star went through in Paris earlier this week, calling it a product of 'karma'.
In an interview on an Australian radio breakfast show on Wednesday, Steve was asked whether he thinks he could have done a better job than Duvier if he were still employed by Kanye and the Kardashians at the time.
With a giggle, Steve answered, I don't know if I could have taken down five assailants with guns, [or] it could be karma coming around.