When Elizabeth Taylor released her perfume back in 1988, she set the pace for other celebrities to follow.
Her move birthed a trend of making your own perfume among celebrities. This trend has led to an upsurge, making it difficult to choose which celebrity to patronise. It's even harder for those who have the desire to smell like celebrities.
Read Also: Famous Stars Who Are Not Permitted To Work Together
In fact, every now and then a new scent is being released by a celeb. Though there are a lot of tempting options to choose from, one must choose judiciously. Apart from going for the ones with a nice scent, the cost must also be put into consideration.
Here's a list of Top 24 Celebrity Perfumes to help you make that perfect choice;
Glow – Jennifer Lopez
Bootylicious J-Lo has a  perfume named "Glow" and it's one of the best Hollywood celebrity perfumes. The perfume reflects the pop star's favorite scents to offer a lady-like and warm feeling. It's a combination of musk, Florals, bright citrus fruits, and soothing vanilla. So far, she has launched 15 different perfumes due to the success of "Glow". However, the fragrance remains the best choice for every kind of woman. It is ideal for clean and fresh aroma.
Paris Hilton – Paris Hilton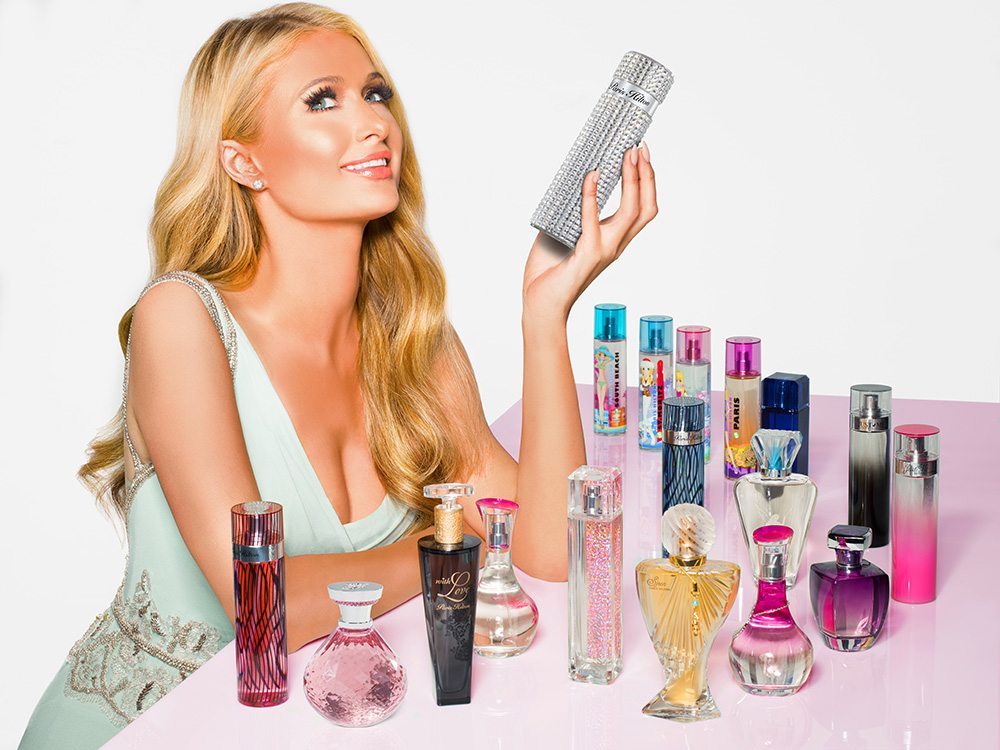 Paris Hilton has built a perfume empire worth an estimated $2.5 billion and her perfume appropriately called "Paris Hilton" is named the best celebrity perfume these days. We understand not many like the reality TV star due to her eccentric nature and as such most women don't consider her perfume. However, that's really a fat mistake.
Not like we like her that much either but her perfume can't  be overlooked for that. The fragrance is unique and compelling that no one can resist it including the men. The perfume will let you know what it smells like to be a star. It has drops of sandalwood, peach, mimosa, apple, ylang-ylang, Freesia, oak moss, and jasmine. The fruity blend, as well as the floral scents, make the perfume perfect for any kind of weather, particularly in spring and summer seasons.
Someday – Justin Bieber
Yea, I guess it shocked you but yeah, Justin Bieber too got a perfume named "Someday". The scent smells really good and it's so nice that it sells more than Jessica Simpson's, Rihanna's, and Jennifer Lopez's perfumes at Macy's. The perfume is regarded as the largest selling celebrity fragrance. You might think it was made only for teenagers and people in their 20s but given the perfume is a blend of creamy Florals, juicy pear, soft musks, mandarin, jasmine, wild berries, and vanilla, it is ideal for people of all ages. The sweet smelling aroma can make you seem flirty, playful, and clean.
White Diamonds – Elizabeth Taylor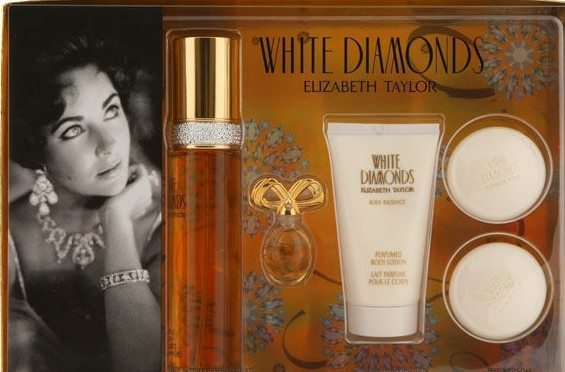 White Diamond is sweet, hot irresistible with a rich attribution like Liz herself. The iconic perfume is the first celebrity-produced perfume. Introduced some decades ago, the perfume remains well-known and thus, one of the best-selling celebrity scents ever."White Diamonds" is made up of lily, bergamot, Neroli, patchouli, ylang-ylang, jasmine, and rose. This appealing perfume, despite being amazing, is not recommended for women who are in their
"White Diamonds" is made up of lily, bergamot, Neroli, patchouli, ylang-ylang, jasmine, and rose. This appealing perfume, despite being amazing, is not recommended for women who are in their mid-20s or 30, but for women who are truly in sophisticated age."
Read Also: Women Prince William Could Have Possibly Married Instead Of Kate
Glam" – Kim Kardashian
Kim Kardashian clearly has a great deal going on. Between being a mother of two, a wife, a TV personality, a social media star, she still manages to squeeze in some time to produce perfume. And the idea of smelling like Kim is not a no-no for women.  The perfume smells nice but the floral-fruity blend will make you not remember that Kim has no real talent for which she is famous for. Kim Kardashian's Glam offers tinges of rose, jasmine, tuberose, iris butter, and sandalwood. It is especially good for some who are not sure whether to use a floral or a fruity scent! It is perfect for women who want to be girly and flirty at the same time.
Fantasy – Britney Spears
Britney Spears'  "Fantasy" has a delicious scent. The perfume with mass appeal is the second perfume in her line of perfumes. The 34-year-old singer's fragrances include sensual woods, cupcake accord, jasmine petals, kiwi, and white chocolate. When used, the perfume first seems fruity, then it turns sweet, due to the scents of white chocolate and of the cupcake, and finally you will smell a light floral note. It is a perfect choice when going for a romantic date due to its seductive scent.
Heat" – Beyoncé
Beyonce launches her perfume called Heat, which is red and gold in the bottle but goes on clear. The perfume has a charming scent that unleashes a vibrant and sparkling fire within. The singer went all personal in combining the perfume, choosing her favourite scent streaks of honeysuckle and red vanilla orchid. The perfume gives out a woman's boldness, sultriness and reliance, thus, it's best to wear when you want to feel sexy.
Read Also: Famous Stars Who Had Their Body Parts Insured
Jennifer Aniston – Jennifer Aniston
Jennifer Aniston knows that bad perfumes can literally stink and could contain all kinds of things that you do not want to be spraying on your body when she launched her fragrance line. As a matter of fact, she introduced her first perfume after her experience during some hot summer nights and sunny days at a beach.
Jennifer's perfume consists of jasmine, amber, citrus grove accord, sandalwood, rose water, amazon lily, violet, and musk. The scent provides a clean and fresh scent that can make you think beach.
However, the floral, and sensual perfume is apparently not suitable for teen girls or those who are in their twenties, but for women who are in their 30s since the perfume attracts older men.
Lovely" by Sarah Jessica Parker
The "Sex and the City" star always desired to usher a perfume line that could offer a mix of sexiness and class. Therefore, she finally picked "Lovely," whose fragrance reflects a self-assured sexy woman. The perfume offers a dear, disjointed, and powdery note.
Also, the perfume allows you a sense woody and citrus note when first sprayed, then a touch of lavender follows immediately, and finally white daffodil…..sounds so unique right? Well, that's not all, you can also sense white musk, white amber, orchid, cedar, and even a touch of apple martini.
"Lovely" is a perfume that can match people of all ages and can be worn by all generations "from 17 to 100 and…!
"Fame" by Lady Gaga
Lady Gaga's perfume "Fame" is as mysterious as the star. But that doesn't mean it is not awesome and empowering. The singer chose her most loved scents including apricot, jasmine, sambac, honey drops and incense. The fragrance is not common, it's is particularly remarkable just like the star herself.
We are not sure what she told the manufacturers to combine but there were speculations that she told them to combine blood and  semen….but that's mere speculations!
"Truth or Dare" by Madonna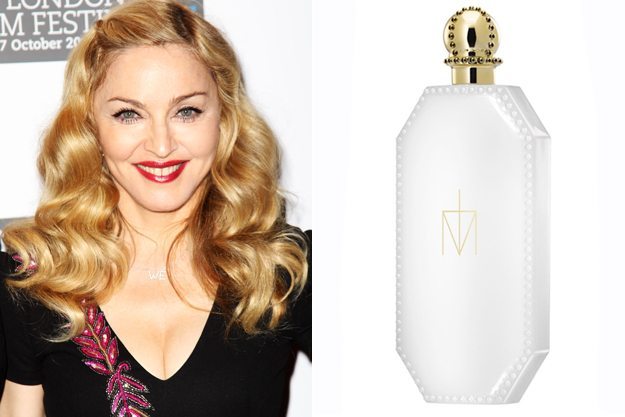 We all know that Madonna's mother was in love with "Fracas", a popular fragrance by Robert Piguet, which was a blend of gardenia and tuberose notes.
Thus, it didn't surprise many that the pop princess chose the mix of fragrance that reminds her of some special moments. The perfume offers white floral, alluring and loud, femme fatale feeling. While some think using the perfume can make you have the same feeling as a virgin touched for the first time.
"Like This – Etat Libre D'Orange" by Tilda Swinton
Like This – Etat Libre D'Orange by Tilda Swinton, is captivating with peculiar traits. The perfume offers a sense of citrus fruits, pumpkin flesh aroma. It also offers smells of warm and soft spices including ginger, and a streak of maple syrup note.
"Lancôme La Vie Est Belle" by Julia Roberts

Lancôme La Vie Est Belle was the last version of experimenting with the 5,521 versions that came ahead of it! The fragrance is just as perfect as Julia Roberts' captivating smile. It features feminine tinges like orange blossom, jasmine, soft notes of vanilla, pear, blackcurrant, and praline. So fabulous!
"Signature" by Christina Aguilera
Nothing attracts like this scent by Christina Aguilera. Not just the fragrance, it looks attractive too.
However, that's not the major reason why the perfume won 10 fragrance awards in Europe! The Genny in bottle girl is regarded as the scent that made the essence of vintage glamour. It is made up of blackcurrant tea, fruit sorbet, vanilla, and musk. It is in fact as seductive as its inventor, Christina!
"Selena Gomes" by Selena Gomez
In 2012, Selena Gomez unveiled a perfume in her name called Selena Gomez" and fans began rushing to patronise her.
The scent was highly lauded because it offers a sexy and attractive blend of raspberry and pineapple fragrance at first and then gradually offers musky note that lasts quite long.
"Signature" by Celine Dion
Celine Dion's Signature Perfume has an amazing grown-up fragrance. The perfume represents femininity and is also stylish. When sprayed first, it offers soft touch of fruitiness then luxurious floral notes of rose, jasmine and rose. The last aroma is nothing short of sexy; sandalwood and musk.
"The Essence" by David Beckham
David Beckham's Essence Cologne may make you have the stamina of the famous soccer star, or at least make you smell like him.
The perfume features manly notes of both juicy grapefruit and sensual lavender that gives you a sense of adventure. Also, it offers pineapple and cardamom notes combined with a base that includes patchouli that lingers throughout the day. 
Wonderstruck" by Taylor Swift
Wonderstruck by Taylor Swift is a special smelling perfume. Though the bottle doesn't seem stylish, the perfume is not just fashionable, but also special and appealing.
Wonderstruck has notes like berries vanilla, honeysuckle, raspberry and tea, tad powdery florals and peach. Tea and florals add a spicy, and fresh vibe to sugary fruits. Something everybody must try!
"Reb'l Fleur" by Rihanna
The perfume is suitable for people of all ages. The smell raises your thrill of being a woman. Once sprayed, you are bound to start enjoying a warm, soft tropical fragrance. It has a strong sillage and lasts longer than you can imagine due to top notes like violet, coconut, and hibiscus