The economy of China has been growing rapidly over the last three decades. Although the entire population of China has been reaping from the benefits of this rapid growth, the environmental impact of that growth is also unreal. Thus, it poses serious health risks to China's population and the world at large. Did you know that recently China is the world's biggest polluter and largest producer of carbon emissions? View the photos below to see the Sooty, smelly and unpleasant photos of some of the impacts of these pollution on the environment.
What In The World Are They Doing There?
Oh No! Is That Water Safe Enough For Drinking?
Dumping Garbage Straight Into The River
Covered In Pollution: Can This Cloud Of Smoke Allow School Children To See The Edge Of Their Schoolyard?
Has It Gotten This Ugly?
Factory Wastes Going Directly Into The Ocean From the Factory
Much Of The Haze Has Blanketed The Sun. It Is Almost Impossible To See Through The Haze.
This Extreme Haze Could Make A Child Go Missing
This Is Definitely Not A Sight To Behold Outside Your Residence
Oh My Gosh! This Sight Would Have Your Teeth Baring
Eww! More Industrial Wastes Going Down The Ocean.
The Fumes Are Just Too Much-You Can Hardly Breath without Help.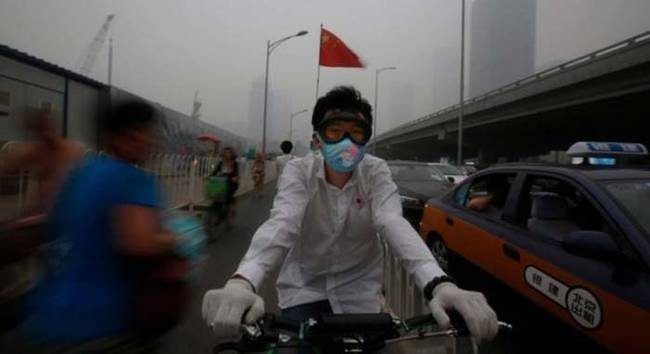 Does It Not Look Like It's Judgement Day? Anyway, It is Clouds Of Smoke Shrouding The Skyline.
In case You Are Wondering Where The Smoke Came From, It Is The Smog Running Off  Factory Smokestack To The Environment.
This Might Be Cozy If It Wasn't Poisonous
Waste Blocked up The Waterway
Play Time: Jumping/Running Through The Waste
Say Hello To This kid Basking In The Glory Of Piled-Up Industrial Waste.
This Is So Weird. Millions of Dead Fishes, What Is Left To Be Consumed?
More Dead Fishes
Oh! This Looks Like The Red Sea, But It's Not.
Ruining the Countryside