When you think of African-American celebrities who are so versatile, your list will never be complete without mentioning Tyler Perry. The multi-talented star is a top-notch American film actor, comedian, screenwriter, director, and producer. He is considered one of the highest paid celebrities in the American entertainment industry; thanks to his resilience, unparallel work ethics, and entertainment skills. Perry has earned a fortune from his blockbuster movies, television series, and acting career accumulating in a net worth of around $400 million.
He rose to prominence following the release of his first movie titled The Diary of a Mad Black Woman in 2006. The movie was a hit and grossed over $50 million in the United States alone. Tyler also created popular television series including the TBS Tyler Perry's House of Pain, The Haves and the Have Nots, If Loving You Was Wrong among others. The multi-talented dude has been in the limelight for over two decades; although he is not yet married, he has a son named Aman with his partner Gelila Bekele. Learn more about Tyler Perry's bio below.
Tyler Perry Brief Bio
The American movie icon was born as Emmitt Perry Jr. in New Orleans, Louisiana on September 13, 1969. His father Emmitt Perry Sr. worked as a carpenter while his mother Willie Maxine Perry was a preschool teacher. Perry grew up alongside his three younger siblings and he experienced a very tough childhood.
As a result of his father's abuse, Tyler suffered from depression; attempted suicide at some point and later, he dropped out of high school. He went on to obtain the General Equivalency Diploma (GED). In order to cut ties with his abusive father, Perry changed his first name from Emmitt to Tyler when he was sixteen.
Career and Tyler Perry Works
After being inspired during an episode of Oprah Winfrey's show in 1984, Tyler moved to Atlanta where he began his writing career. At first, he wrote a musical piece titled I Know I've Been Changed which he performed at a community theatre in Atlanta. Although the piece didn't record much financial success, he continued to rewrite the lyrics until 1998 when he toured with the urban circuit theatre. After the tour, not only did his popularity increase but he also began to build a huge fan base.
With the amount of money Tyler realized from his concerts; he wrote and produced his first movie titled The Diary of A Mad Black Woman in 2005. Followed by the comedy-drama titled Madea's Family Reunion for which he came into the limelight. Tyler Perry portrayed the character of an older black woman called Madea in the movie.
The film sold for over $65 million in America. His other top movies include Madea Goes to Jail, Why Did I Get Married Too, The Single Moms Club, Boo! A Madea Halloween, Nobody's Fool, and A Madea Family Funeral, among others.
Furthermore, he wrote, directed, produced and starred in the TBS Tyler Perry's House of Pain from 2006 to 2011. After the first two episodes of the series gained wide recognition; the TBS network offered him a deal worth $200 million for a 100-episode which ended in 2011. He also created another sitcom television series titled Tyler Perry's Meet the Browns from 2009 to 2011.
He collaborated with Oprah Winfrey in 2013 and released other comedy series such as For Better or Worse which aired from 2011 and ended in 2017; The Haves and the Have Nots from 2013 to date; If Loving You is Wrong from 2014 to present, and 2018 series The Paynes, among others.
The star also procured and converted the former military-base in Fort McPherson, Atlanta to his self-titled studio in 2015. The studio has produced several top television series including the Walking Dead as well as the Marvel thriller Black Panther.
In addition, Tyler Perry is also an acclaimed writer and has written several New York Times Best Seller's such as Don't Make a Black Woman Take off Her Earrings which was published in 2006. The book became the best book of the year, selling over 30,000 copies worldwide and also won the best humor book award at the Quill Awards held in 2006.
See Also: Mark Wahlberg Wife (Rhea Durham), Siblings, Kids, Family, Body Size
Is He Married? Wife, Son (Aman)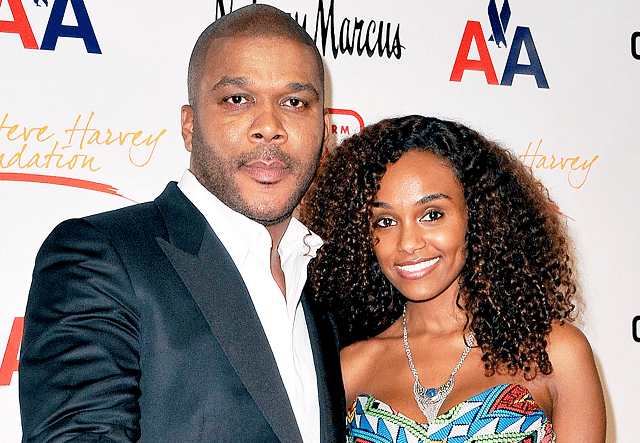 While Tyler Perry has continued to record tremendous successes in the American entertainment industry, he is also having a blissful relationship with a model named Gelila Bekele. The duo met back in 2009 and after a few months of a romantic relationship, they became a couple. They welcome their first child, a son named Aman on November 30, 2014.
While Tyler and his partner have continued to enjoy the glamour of the limelight, he doesn't want his son to be seen anywhere on the social media. He hasn't shared any of his pictures on the social media and he doesn't talk about him during interviews to avoid creating social media rants and buzz.
The gorgeous couple has been living together with their son in Atlanta for over nine years. Nevertheless, they haven't walked down the aisle. We hope they take a bold step to seal their love in a nuptial bliss soon.
Who is Gelila Bekele?
Born on September 4, 1986, the Ethiopian–born model, Gelila Bekele grew up in Addis-Ababa where she started her modeling career in 2006. Through her modeling career, Gelila has worked with several magazines; as well as top modeling agencies both in Paris and New York. The amazing model is also a prolific writer and has authored a book called Guzo.