Aram Bartholl, a media artist who lives in Berlin is one of the many artist leaving a trail where there is no path. He started out his "dead drop" invention or project in October 2010, during his stay in NYC at EYEBEAM as a resident artist. Dead Drops' is an anonymous, offline, peer-to-peer file-sharing network in public space by embedding mostly USB drives into the walls around the world. Each USB flash drive is buried into every wall, building and curb accessible to everybody in public spaces. He has left something amazing for people to see in different places ranging from Paris to London. The incredible and wonderful idea you could get from his reasons for embedding USB into walls is surely bewildering. See the video below to learn how he does that. Scroll down to see more photos of dead drops:
See also: Planning A Trip To India? See Beautiful Holiday Destinations In India
Don't Miss This: Hidden Things In Photos That Might Shock You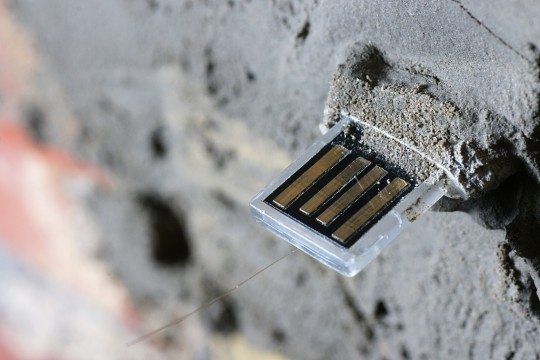 Now watch the video to hear the inspiration behind this wonderful idea of sharing. You will be inspired, but don't let it stop there, you can go on and do your own dead drops, you will be helping a lot of people and uniting the globe.
 Image Source: Dead Drops